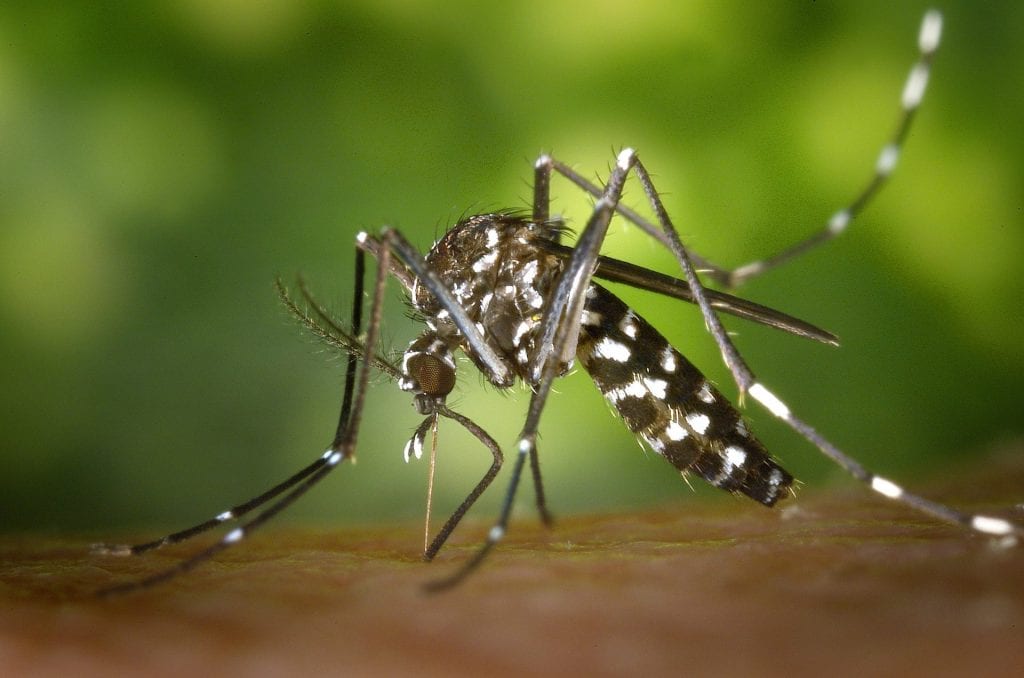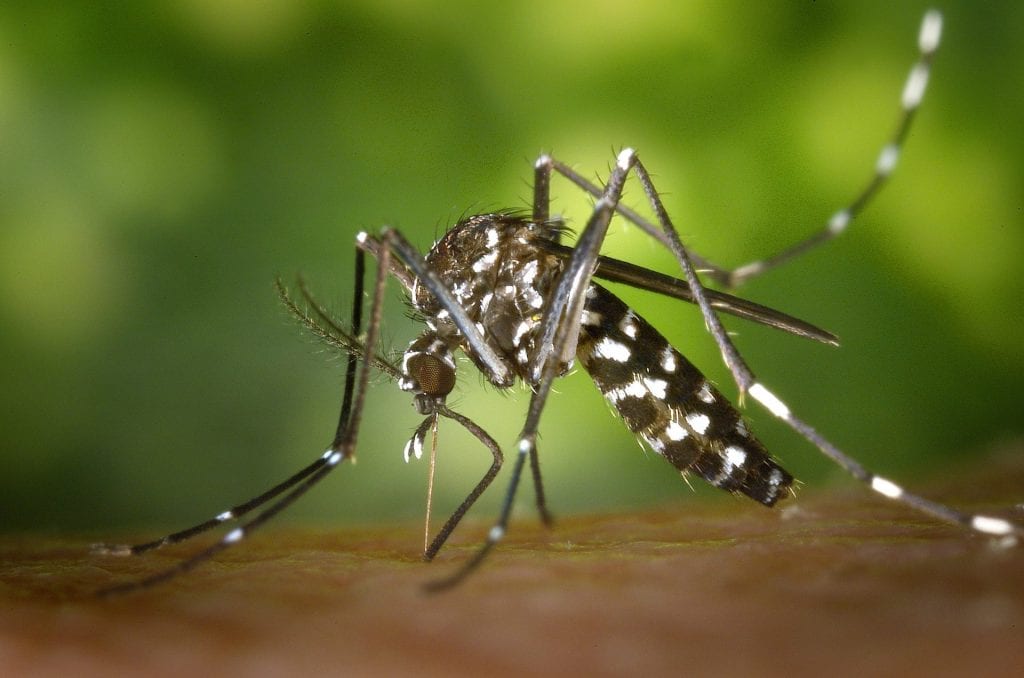 Ah, spring.  It is the best of times, it is the worst of mosquitoes.  It is the season of light, it is the season of disease.  While Dickens described the French Reign of Terror, we will discuss the mosquito Reign of Terror organizing in your backyard.
Every good story needs an antagonist.  Ours is the size of, well, you will need some magnification to identify them.  Aedes aegypti are commonly referred to as the yellow fever mosquito.  They have a silvery lyre shape on the dorsal aspect of the thorax, and white striped legs.  Aedes albopictus, AKA the Asian tiger mosquito, is known for aggressive feeding behaviors.  They also have striped legs, but only a single line down the length of the thorax.
It all starts with water
Mosquitoes require stagnant water to complete their lifecycle.  An adult female will lay eggs in water.  The eggs hatch in just a few days, depending on environmental conditions and species of mosquito.  The larvae feed on plant debris in the water and molt four times before becoming pupae.  The pupae do not feed, and the adult emerges soon after.  Only female mosquitoes feed on blood, living 1-3 weeks.  Male mosquitoes feed exclusively on plant nectar and can live 4-8 weeks.
Similar, Yet Different
Both Aedes species share similar ranges, covering the majority of the southern and eastern United States.  Both species tend to feed during the day.  There are several very important differences, however.  Ae. aegypti have evolved through millennia to preferentially feed on humans.  These mosquitoes choose to live right alongside humans in the home.  This poses a much greater threat of spreading viruses amongst the human population.  A single female Ae. aegypti will only travel 400 yards in her lifetime.    
Ae. albopictus tend to feed on whatever warm-blooding being is available, reducing the risk of human disease transmission.  These pests evolved from a forest species in Asia to become well adapted throughout the world.  Ae. albopictus will often out-compete Ae. aegypti for a human blood meal.    
Protecting Yourself
Local transmission of Zika, dengue and chikungunya viruses have occurred in the US, due to the presence of a competent vector pool in subtropical and temperate climates.  The campaign to save humankind from this onslaught is a trident approach: environmental assessments, vector control, and education awareness.  As with any battle to the death, adjusting to the tides of combat is crucial. 
Environmental Assessment
Remember, Aedes don't like to travel far for their next meal.  They tend to live near where they hatched.  Walk around your yard.  Look for flower pots, old tires, dog dishes, even a bottle cap can hold enough water to hatch mosquito eggs.  Remove any objects that collect and hold water.  The most accurate measure of vector activity in the area is landing counts.  No one wants to be the "bait" to literally measure the number of mosquitoes landing and biting in a given time period.  More humane, but costly, methods include the various types of adult traps. 
Vector Control
Vector control achieves the greatest success when directed at the source.  In larger bodies of water, freshwater fish (Gambusia affinis) will prey upon the mosquito larva.  Mosquito dunks provide control in smaller bodies of water.  These dissolving bacteria discs act as a mosquito larvicide, without causing harm to fish or other wildlife.  Spraying for adults gives immediate, although short-duration, relief. 
Educate Yourself
Education is the last stand against the invading hoards.  Understand how to defend yourself.  Wear long sleeves and pants when outdoors during mosquito season.  If possible, treat clothing with permethrin for greater protection.  Use an EPA registered insect repellant, such as DEET on any exposed skin.  Keep window and door screens in good repair.
Implementing these recommendations for mosquito control increases the chances of your summer being the best of times and not the worst of mosquitoes.
For additional information, please visit: