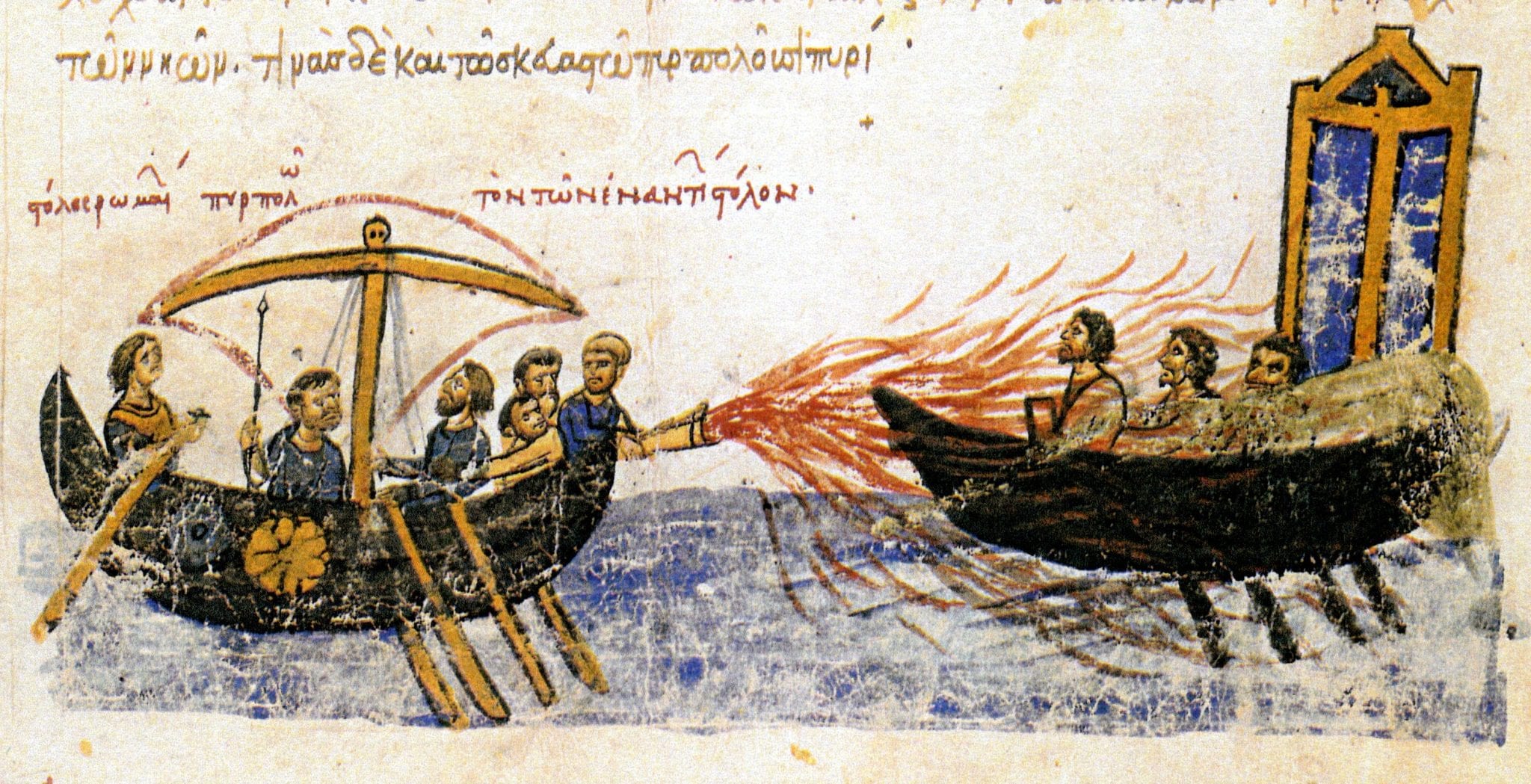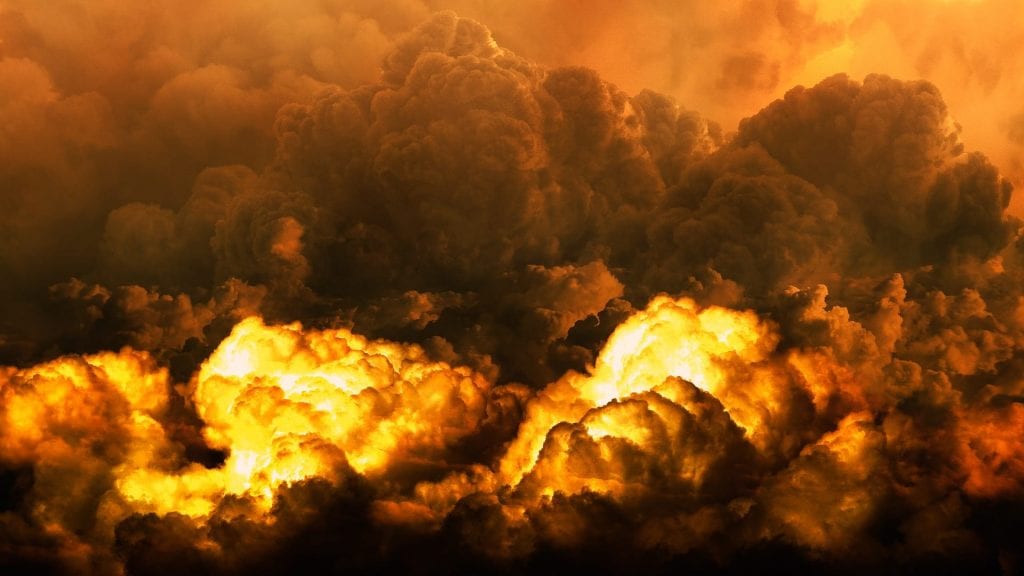 Napalm vs Greek Fire
When recalling the horrors of WW II, Vietnam, and the Korean war, we can hardly do so without including the haunting images of napalm. In a wonderful effort to destroy more life, the recipe has been improved over the years. Without going into the portmanteau for the acids that make up the name na-palm or some of the specific ingredient changes, it is basically a combination of gasoline and styrofoam. (Blasted Science has a video on how to make it: https://www.youtube.com/watch?v=mWbRCQawB24 ). It sticks, it burns, and it can be near to impossible to put out.
To repel the Arab sea attack against Constantinople, the 7th Century Byzantines invented the weapon known today as Greek Fire. Back then, they commonly called it "Roman Fire," "Sea Fire," or "Sticky Fire." Both napalm and Greek Fire devour and consume everything they touch. No regret, no mercy, and no going back. Despite their similarities, the precise formula of Greek Fire has been lost in the annals of history.
Podcast: Free Audio File
If you prefer to listen to podcasts, feel free to play the audio version of this blog by clicking on the player above.
Podcast: Anaphylactoids, Stronger than a Breath Mint
Length: 5 min 03 seconds
Written and read by the author
Anaphylactic Reactions
                The terms Anaphylactoid and Anaphylactic confuse and frustrate us. Like napalm and Greek Fire, since they inflict similar damage, we wonder how closely their mechanisms align. As is the case with Greek Fire, one remains an elusive mystery.
Anaphylactic reactions require both pre-exposure and stimulation of the immune system. Upon the first exposure, associated with no adverse clinical signs, the body produces the antibody known as IgE instead of IgG. This process, Class Switch Recombination of the B cell occurs secondary to cytokine and T Cell stimuli. Typically, IgE has a meager presence in the body. When free-floating, the body quickly eliminates IgE, with the half-life being only 1-2 days. When attached to the receptor on a mast cell or basophil, IgE lasts as long as the cell lives. Upon subsequent exposure, this IgE cross-links on mast cells and basophils leading to the systemic and massive release of cytokines. Depending upon the level of cytokines, the results can range from itching and rash to facial edema to shock or even death. The key to this reaction, also known as a Type 1 Hypersensitivity reaction is prior exposure. To generate an IgE response, the immune system requires Affinity Maturation - this takes days to a couple weeks to complete.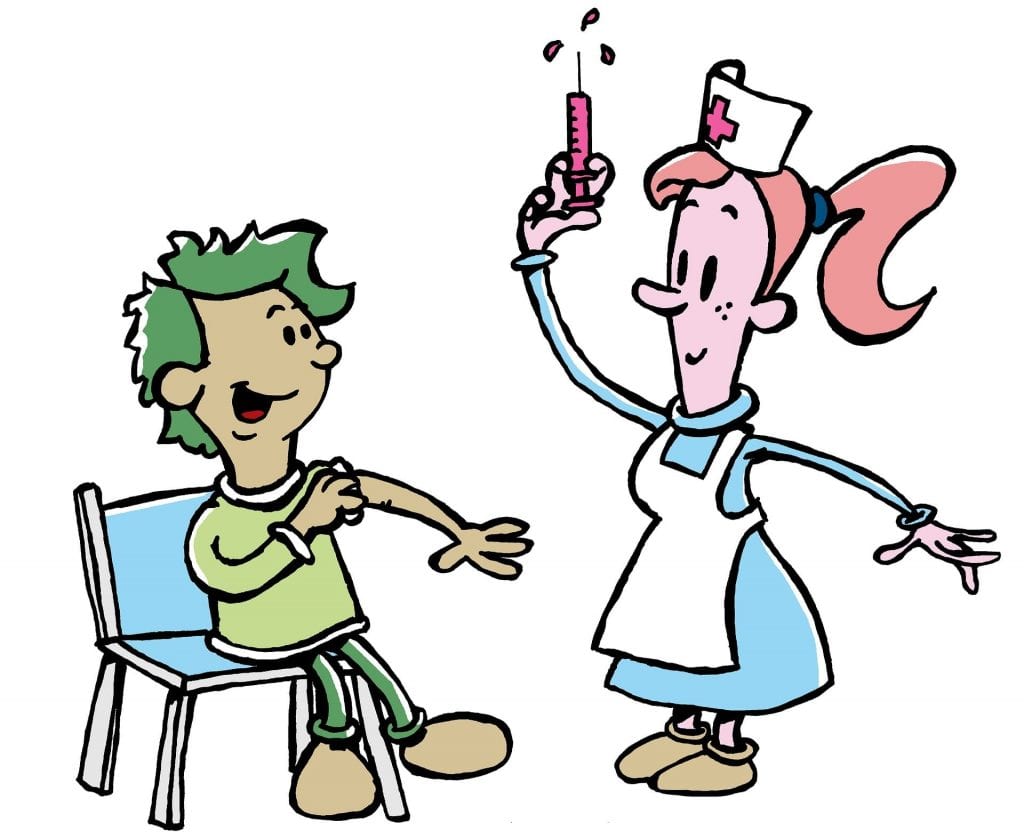 First exposure hallmarks anaphylactoid reactions
Anaphylactoid reactions also involve the degranulation of mast cells and basophils. While we do not understand the exact mechanism, IgE does not play a part. How do we know? Because anaphylactoid reactions occur against a single, first exposure to a compound. The body has never seen this compound before. To have IgE present, we need prior exposure; we need Affinity Maturation. When the clinical signs of anaphylaxis and shock occur for an injection that the patient has never before been given, we label this as an anaphylactoid reaction. This can happen with drugs, vaccines, and other injectables. Since, by definition, the body has never seen this compound before, and the occurrence is extremely rare, studying this phenomenon in any species represents a challenge.
Like napalm and Greek Fire, anaphylaxis and anaphylactoid reactions generate destruction. Unlike napalm and Greek Fire, we deal with both immune reactions on a regular basis. Some injectables in medicine are known to lead to Type I Hypersensitivity or anaphylaxis, and others are known to almost exclusively have anaphylactoid reactions. While treatment for both is the same, how we predict and manage them across populations and time differs. However, stronger than anything we've discussed today, is our curiosity to better understand – this fire sticks to our soul and burns eternally.
References and Further Reading
[amazon_link asins='1118553985,1935660020,0199946647,130526892X,1607951789' template='ProductCarousel' store='vetzone-20' marketplace='US' link_id='aa3e86be-ce1c-11e7-ae16-0944a45c35a3']