In our last podcast, we introduced our listeners to the basics of farmed Pacific white shrimp.  But, with any commercial livestock operation comes increased risk of disease.  The first disease we discussed was infectious hypodermal and haematopoietic necrosis virus (IHHNV).  First reported this year, IHHNV was not the first shrimp FAD to occur in the US.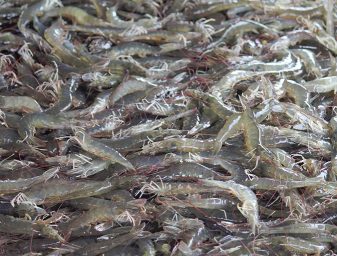 EMS now called AHPND
Early reports of acute hepatopancreatic necrosis disease (AHPND) surfaced in China in 2009, Vietnam in 2010, Malaysia in 2011, Thailand in 2012, Mexico in 2013, eventually reaching the US in 2017.  Prevalence reaches 100% in farmed shrimp in enzootic counties.  Estimates place financial losses at over $20 billion USD in Asia alone.
Previously called Early Mortality Syndrome, AHPND is caused by specific virulent strains of Vibrio parahaemolyticus.  Mortalities reaching 100% occur within the first 5 weeks of stocking a pond with post-larvae (PLs).  Similar to IHHNV, mortalities in PLs often avoid detection due to their small size.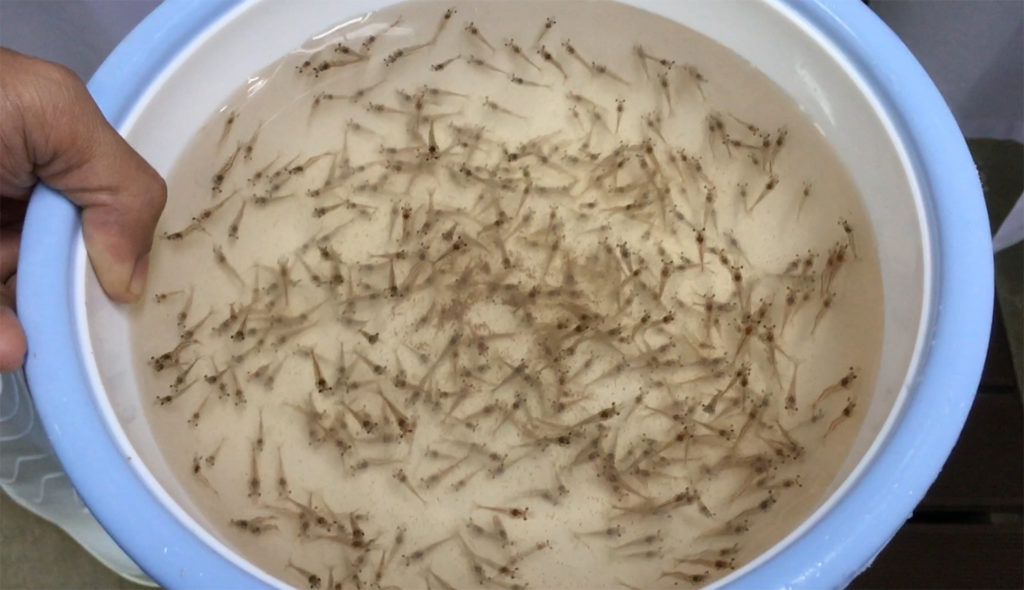 A Toxic Killer
The virulence of the disease occurs not from the bacteria themselves, but rather from a binary toxin that they produce.  Frequent mutations occur in the gene sequences proceeding and following the gene coding for the toxin.  Thus, not all V. parahaemolyticus infections cause disease.  This also leads to difficulty in distinguishing between pathogenic and nonpathogenic V. parahaemolyticus infections.
Unfortunately, the genes surrounding the sequence coding for the toxin lends themselves to conjugation.  Scary, knowing that there are many bacteria out there that have the potential to infect shrimp and other seafood.  Most cause mild gastrointestinal disturbance, but some can be fatal.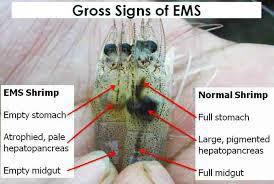 Clinical Signs
Transmission occurs when shrimp ingest the bacteria from the water or from contaminated feed.  Cases seem to peak during hot, dry conditions.  Contributing factors include overfeeding, poor feed or water quality, or algal blooms.  Recovered adults potentially harbor the bacteria, acting as a source of vertical transmission.
Clinical signs in affected animals include lethargy, delayed growth, pale atrophied hepatopancreas, soft shells, empty gut, and black streaks within the hepatopancreas.  Dead shrimp collect at the pond bottom.  In open ponds, increased bird activity may be noted.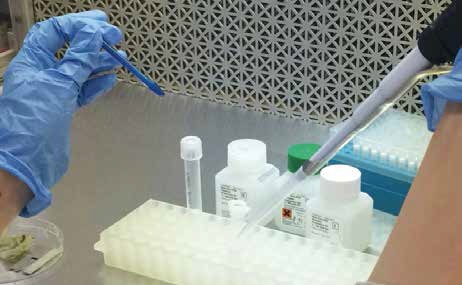 Diagnosis and Prevention
Diagnosis of the bacteria relies on PCR and bacterial isolation.  Paired samples should be submitted on ice and fixed in 90% ethanol.  If the animals are large enough for histopathology, samples should be preserved in Davidson's solution.  Smaller animals need to be pooled to obtain enough material for PCR.
The bacteria can be killed by freezing, heating, and common disinfectants, such as bleach.  AHPND causing V. parahaemolyticus can survive for up to 18 days in filtered seawater.  No vaccine is currently available.  As with all infectious diseases, good biosecurity remains the #1 method of prevention.  Only obtain PLs from breeders with known testing status.  Do not share equipment or employees between farms.  Selective breeding holds hope of developing a resistant line of shrimp.
References and Further Reading
[amazon_link asins='1118553985,1935660020,0199946647,130526892X,1607951789' template='ProductCarousel' store='vetzone-20' marketplace='US' link_id='aa3e86be-ce1c-11e7-ae16-0944a45c35a3']