Podcast: Free Audio File
If you prefer to listen to podcasts, feel free to play the audio version of this blog by clicking on the player above.
Podcast: Anthrax
Length: 4:22 minutes
Written and read by the author
Anthrax is in the news again; this time in Texas.  While most people are aware of anthrax as a bioterrorism agent, most don't realize that it is common in many areas of the US, including Texas, the Dakotas, Nevada, and parts of Minnesota.  The disease has been reported worldwide.
The spores can remain dormant in the environment for many years.  There can be sporadic outbreaks in areas that have suffered flooding, followed by drought.  The spores are then aerosolized and inhaled by livestock or humans.
Causative agent: Bacillus anthracis
The causative agent of anthrax is Bacillus anthracis.  This is a spore-forming, non-motile, Gram-positive aerobic rod.  The spores are extremely resistant to heat and chemical inactivation.  Because of this, the spores can remain viable in the environment for decades.  Ruminants (cattle, sheep, and goats) are most susceptible to the disease, followed by horses, then omnivores (pigs) and carnivores (dogs and cats).  A few bird species are also susceptible.  Ruminants are exposed from consuming contaminated plants or soil or inhaling the spores.  Carnivores are exposed from consuming an infected carcass.  Humans are usually exposed from handling infected animals.
The vegetative stage (bacteria) will be present in the blood of infected animals.  The bacteria will form spores when exposed to oxygen.  This is a very important fact when dealing with carcass disposal during an outbreak.  It is imperative to not open the carcass.  The vegetative stage will be destroyed in a few days if not allowed to sporulate.  The spores can be destroyed with sodium hydroxide, formaldehyde or glutaraldehyde.  The spores can be killed in food with appropriate cooking.
History of Anthrax
It is speculated that anthrax originated in Egypt around 700 BC.  Doctors began to notice a correlation between anthrax and the animal hair industry, leading to the term "wool sorters disease."  In 1876,  Robert Koch used the bacteria to develop what later became known as Koch's postulates.  Louis Pasteur was able to develop a successful vaccine against anthrax for livestock in 1881.  A human vaccine lagged behind by 80 years.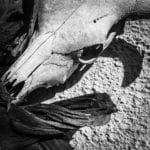 Incubation Period and Clinical Signs of Anthrax
Human infections can manifest as three different forms: cutaneous (skin) form, gastrointestinal form, or inhalation form.  A new form, injection anthrax, has emerged with the surge in illicit drug use.  Incubation times can range from 1 to 7 days.  The cutaneous and gastrointestinal forms respond well to antibiotic treatment.  The inhalation form has a high case fatality rate, even with treatment. 
Incubation periods in livestock can vary from 1 to 20 days, with pigs being the longest.  Often, the first clinical sign noted is sudden death in one or many animals.  Distinct signs noted with anthrax cases are a bloody discharge from all orifices, lack of rigor mortis, and marked bloating with a rapid decomposition of the carcass.  If there is any suspicion of anthrax, do not open the carcass as this can cause sporulation of the bacteria, and contamination of the environment. 
Prevention of Anthrax
The best prevention of human anthrax cases is the prevention of cases in livestock.  In the event of contact with a suspected anthrax animal, proper PPE (personal protective equipment) such as a mask or N95 respirator, protective clothing, gloves, and goggles should be used.  
Producers in anthrax-endemic areas should work with their veterinarian to determine a herd health program to mitigate the risk of the disease.  This could include vaccination, or rotational grazing to avoid areas that are potentially contaminated.
Appropriate carcass disposal can help to decrease environmental contamination with spores.  Incineration is the most effective method in most cases.  Deep burial can be used, but future use of the land has to be considered, as demonstrated in the UK recently.
For additional information, please visit: