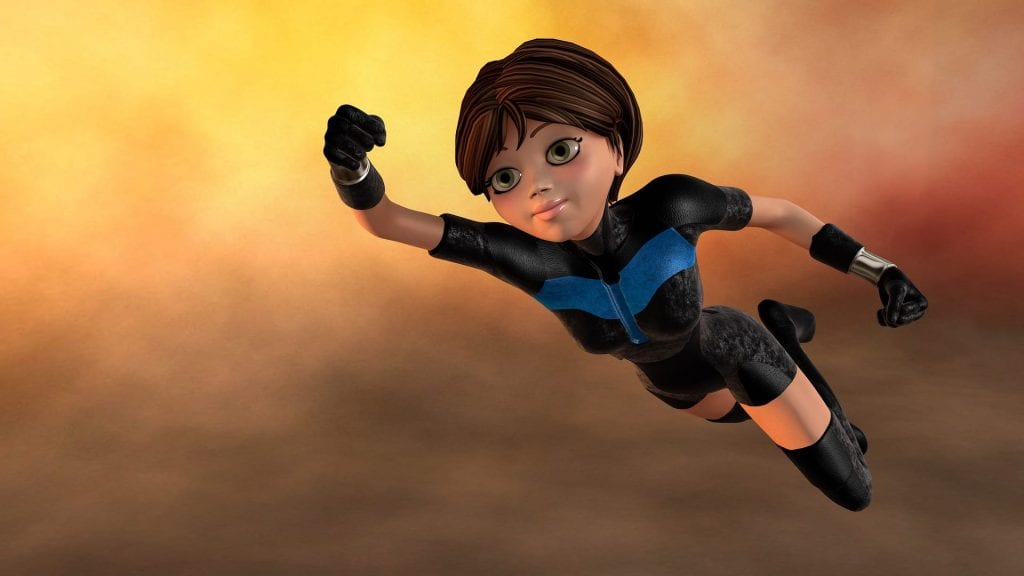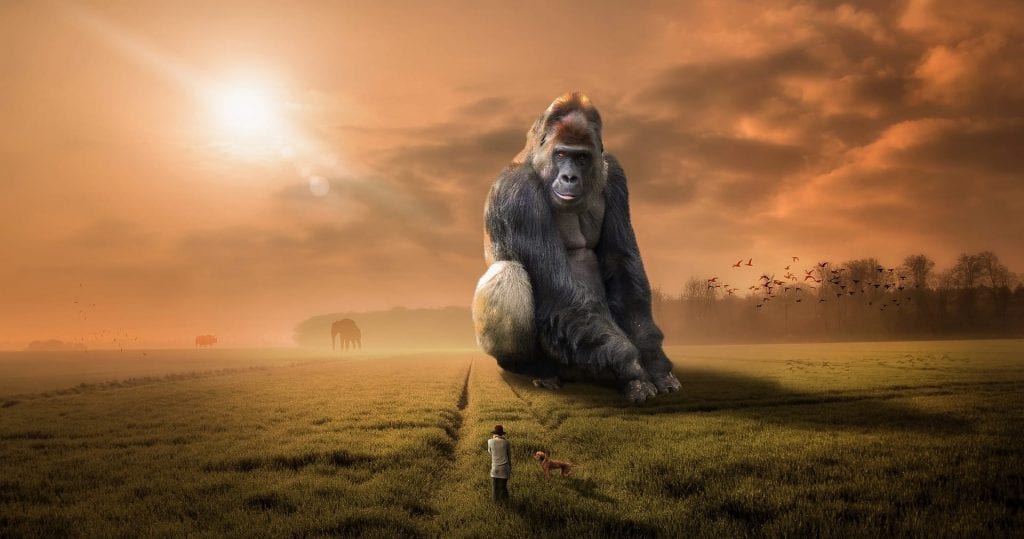 Superfamilies.
The answer is yes! As an ape, you are a card-carrying member of the superfamily Hominoidea. Taxonomy classifies all living beings from three domains of life through 8 different levels to the most specific final categories of genus and species. At times, eight levels just aren't enough to properly group. When this occurs, we use squeeze another layer in between. Apes aren't the only cool group to warrant a superfamily: butterflies, dung beetles, and filarials fit the bill too.
What are filarials? A group of roundworms which affects millions of people and pets each year. Now, when I think of roundworms, even as a vet, I think of a squirming intestinal worm. They infect humans and animals through a fecal-oral route and release up to 200,000 eggs per day in our stool. Gross but not accurate to describe all roundworms and not accurate to describe filarials. Roundworms represent a wide and diverse phylum including over 25,000 different species. To avoid confusion, we can call members of this phylum nematodes instead.
Podcast: Free Audio File
If you prefer to listen to podcasts, feel free to play the audio version of this blog by clicking on the player above.
Podcast: Are You Cool Enough for a Superfamily?
Length: 6 min 47 seconds
Written and read by the author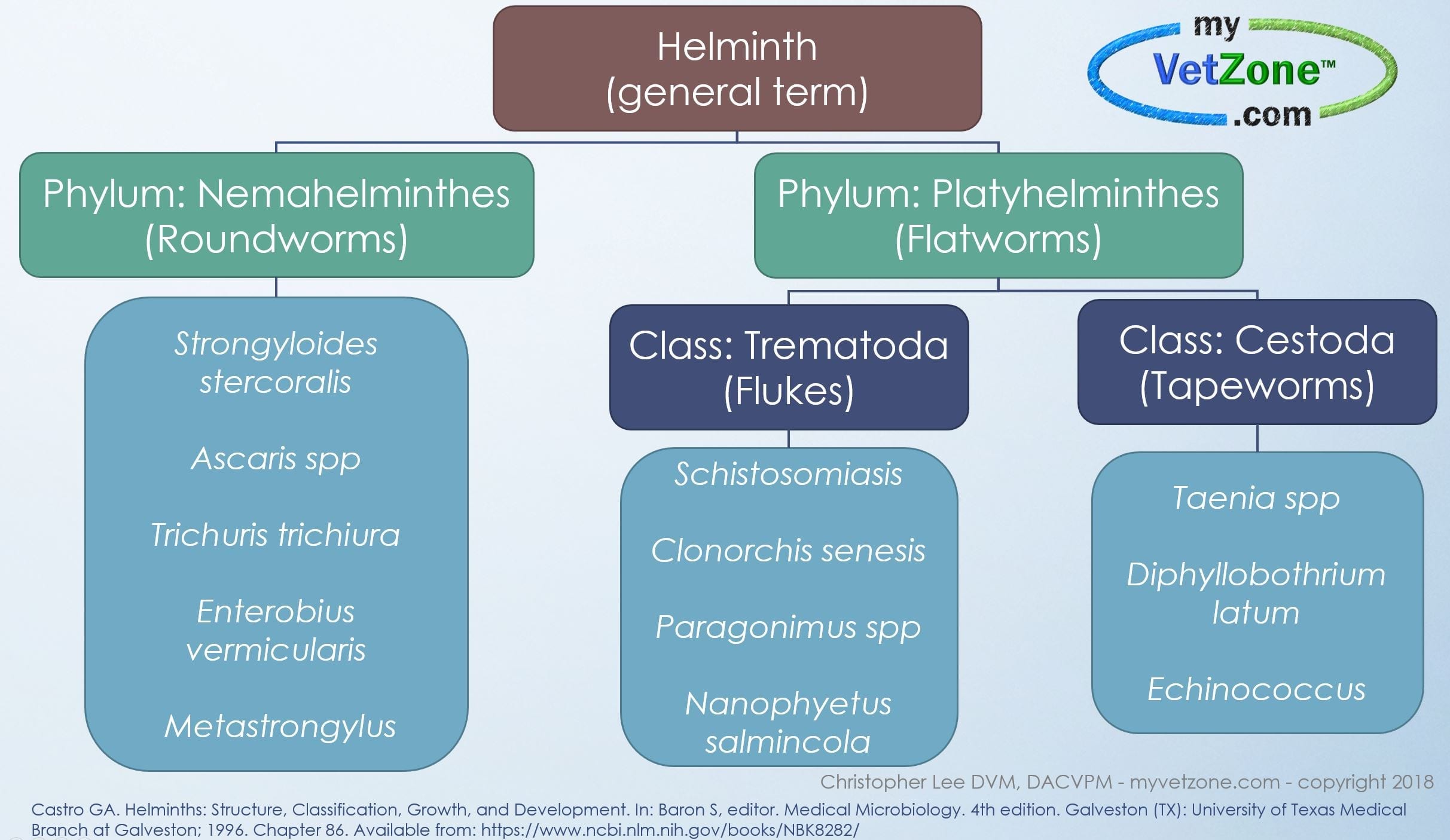 The term "roundworm" is vague and confusing.
For example of this confusion, you hear that dogs can be infected with roundworms, whipworms, and hookworms. This statement appears to refer to three species of parasites but actually refers to six: two for rounds (Toxocara canis and Toxascaris leonina), three for hooks (Ancylostoma caninum, Ancylostoma braziliense, Unicinaria stenocephala) and one for whips (Trichuris vulpis). Additionally, all six of these species are nematodes which means not only is the roundworm a roundworm but so are the hookworms and whipworms. Then we throw in another common pet parasite into the mix: the tapeworm. We might be tempted to call this a roundworm, but that would be a mistake. These guys are Platyhelminths or flatworms. Like the term nematode, platyhelminths comprise a wide list of species again, around 20,000.
Taxonomy matters to you!
Why do you care? Can we just kill them all and move on? Taxonomy helps define drug susceptibility and route of transmission. Both of which you care about very much– how do we kill them? And then, how do we avoid from getting them again? So, what are you trying to kill or avoid? A whipworm, a tapeworm, or a filarial?
And that brings us back to filarials. While a nematode, and therefore a roundworm, filarials have enough special characteristics to warrant a superfamily. They give livebirth, are always parasitic, and use an arthropod intermediate host like a mosquito. Unfortunately, a few of these filarials use humans and pets as their definitive host. A definitive host is the animal where the adult stage and/or sexual reproduction occurs of the parasite occurs.

Almost a billion people at risk annually
Lymphatic filariasis accounts for most human infections with over 120 million people affected and 856 million at risk annually. Three different species of worms cause lymphatic filariasis, which some people might recognize by the common term, elephantiasis. Onchocerca or river blindness comprise most of the other human filarial infections with roughly 18 million infected and 120 million people at risk annually.
In countries like the United States, filarial diseases remain rare in people, and we usually associate them with the pet disease known as Heartworm or Dirofilaria immitis. Dogs, cats, other mammals and on rare occasion, humans become infected with this worm.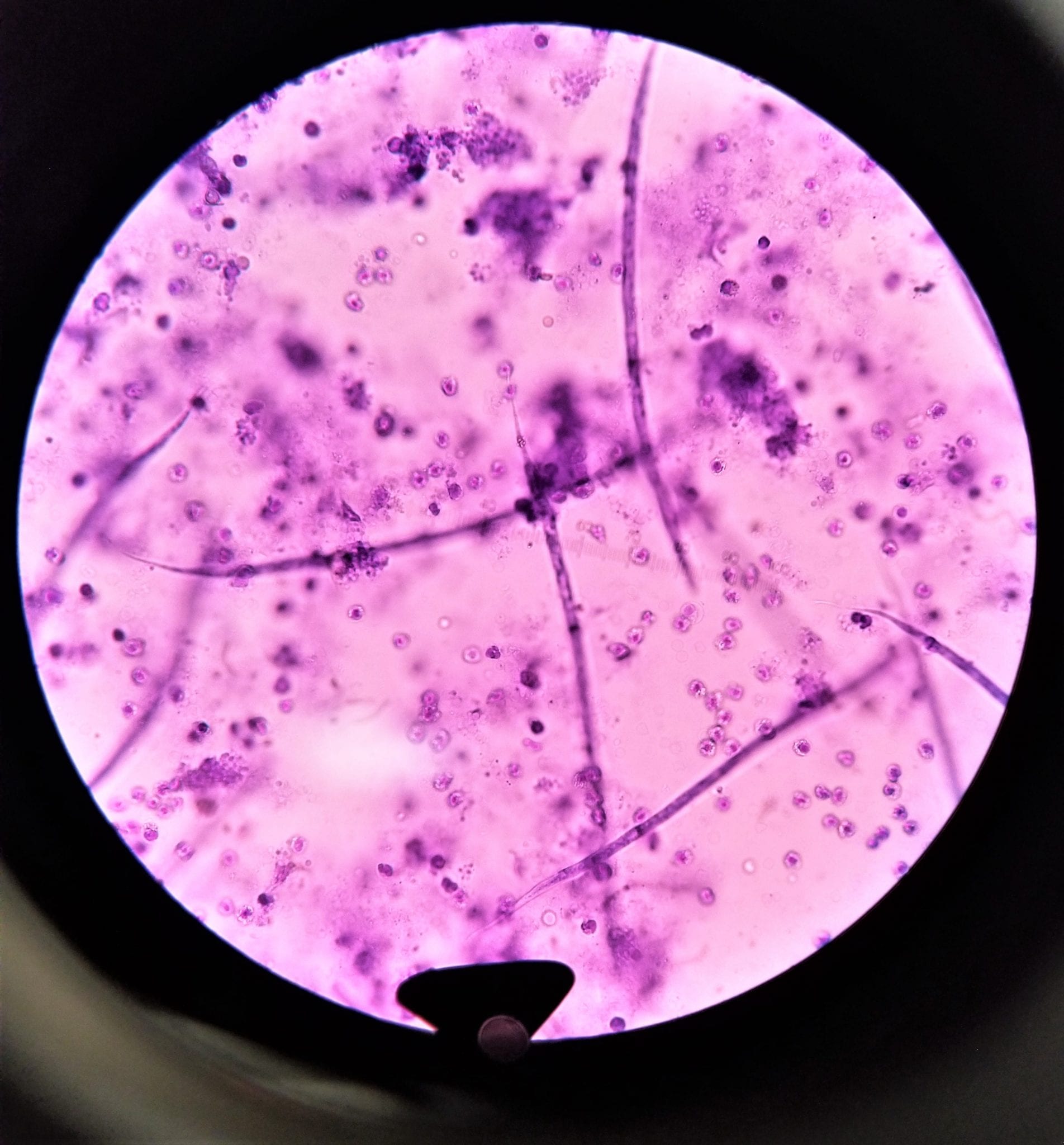 Filarials lead a complex lifestyle.
Sometimes as big as a foot long, these roundworms sexually reproduce inside a warm mammalian host. Their children circulate in the blood at 1000 times smaller than their parents. This size difference means that unlike their parents, the larval stage, known as microfilaria, are just that – microscopic filaria being at 250 – 340 micrometers (μm) or one-hundredth of an inch (0.01 inches) long. This diminutive size allows blood-sucking parasites to accidentally ingest a few of these larvae in the blood meal. Microfilaria can be patient for this opportunity and live up to two years inside the right mammal.
Not every blood sucker can serve as a viable intermediate host for heartworm, in fact, most mosquitoes can't even do this. Of the roughly 3000 species of mosquito worldwide, about 200 mosquito species call the United States home. Of those, only 25 species in the US naturally can carry these worms. And out of those, only the females suck blood. When in the right mosquito, they mature inside it over a couple of weeks. After that time, the larva can take advantage of the mosquito's next blood meal and get into a definitive host.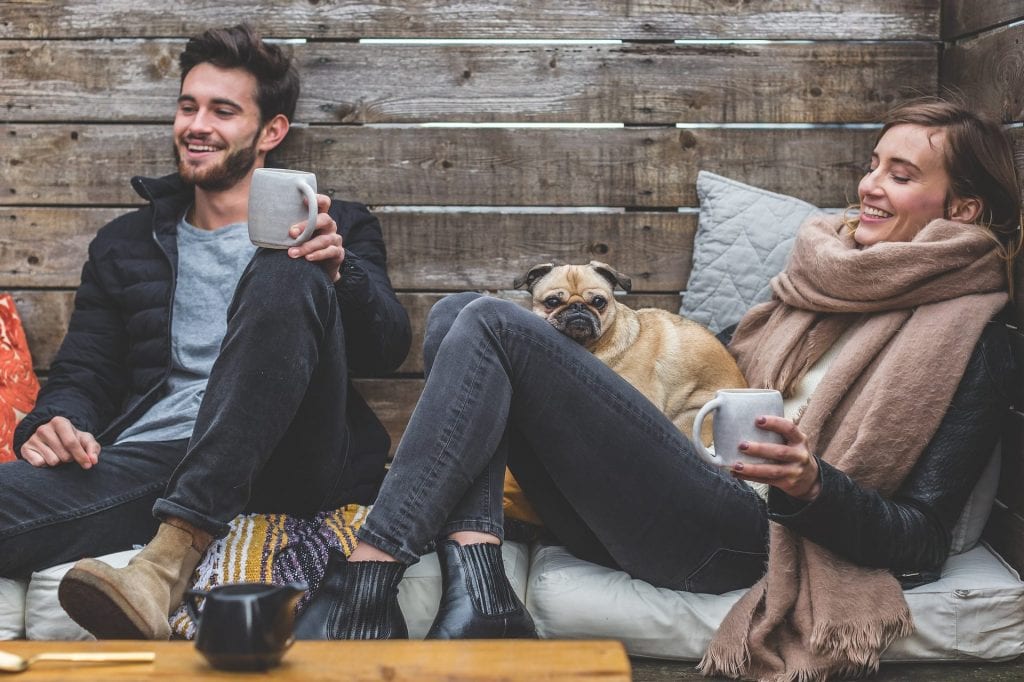 What we can do:
What have we learned? First, when the term roundworm pops up, clarify. This term could refer to either one or two species or over 25,000 species collectively. Second, when thinking about dog or cat parasitic infections, diagnosis is key. While broad-spectrum deworming strategies exist, none of them include adult filarial treatment, and even if it kills the other worms, it fails to address an important question: "What is the route of infection?" Whipworms, hookworms, tapeworms, and other platyhelminths like flukes, all have different routes of infection. If we don't know the route, how can we avoid reinfection? Important since most of pet parasites are zoonotic, meaning that they can infect you and your children. Third, while overall risk is low why take unnecessary chances? Year-round heartworm and intestinal parasite preventives protect indoor and outdoor dogs and cats. And members of Hominoidea always prefer parasite-free pets for everyone's safety.
References and Further Reading
BBC. (2018). Superfamily. Retrieved July 7, 2018, from http://www.bbc.co.uk/nature/superfamily
CDC. (2018, January 03). DPDx - Laboratory Identification of Parasites of Public Health Concern. Retrieved July 7, 2018, from https://www.cdc.gov/dpdx/ascariasis/index.html
Dryden, DVM, MS, PhD, Dipl ACVM (Parasitology), M. W., Herrin, DVM, PhD, Dipl. ACVM (Parasitology), B., Reif, MPH, PhD, K. E., Smith, RVT, V., & Ritchie, D. (2018, June). An Evidenced Based Small Animal Clinical Parasitology Training Course. Lecture presented at Wildcat Parasitology 2018 in College of Veterinary Medicine, Kansas State University, Manhattan.
EPA. (2017, August 02). General Information about Mosquitoes. Retrieved July 8, 2018, from https://www.epa.gov/mosquitocontrol/general-information-about-mosquitoes
Hodda, M (2011). "Phylum Nematoda Cobb, 1932. In: Zhang, Z.-Q. (Ed.) Animal biodiversity: An outline of higher-level classification and survey of taxonomic richness". Zootaxa. 3148: 63–95.
Lambshead PJD (1993). "Recent developments in marine benthic biodiversity research". Oceanis. 19 (6): 5–24.
Reinemeyer, C. (2016). Formulations and Clinical Uses of Pyrimidine Compounds in Domestic Animals. Pyrantel Parasiticide Therapy in Humans and Domestic Animals, 67-107. doi:10.1016/b978-0-12-801449-3.00015-6
Roy C. Anderson (8 February 2000). Nematode Parasites of Vertebrates: Their Development and Transmission. CABI. p. 1. ISBN 978-0-85199-786-5. "Estimates of 500,000 to a million species have no basis in fact."
Zhang, Z (2013). "Animal biodiversity: An update of classification and diversity in 2013. In: Zhang, Z.-Q. (Ed.) Animal Biodiversity: An Outline of Higher-level Classification and Survey of Taxonomic Richness (Addenda 2013)". Zootaxa. 3703 (1): 5–11. doi:10.11646/zootaxa.3703.1.3.
[amazon_link asins='0316051632,B004MFYKM8,B01FKUXLG4' template='ProductCarousel' store='vetzone-20' marketplace='US' link_id='e87ec9e2-306a-11e8-8a9a-d982bd66bed1'][amazon_link asins='1118553985,1935660020,0199946647,130526892X,1607951789' template='ProductCarousel' store='vetzone-20' marketplace='US' link_id='aa3e86be-ce1c-11e7-ae16-0944a45c35a3']