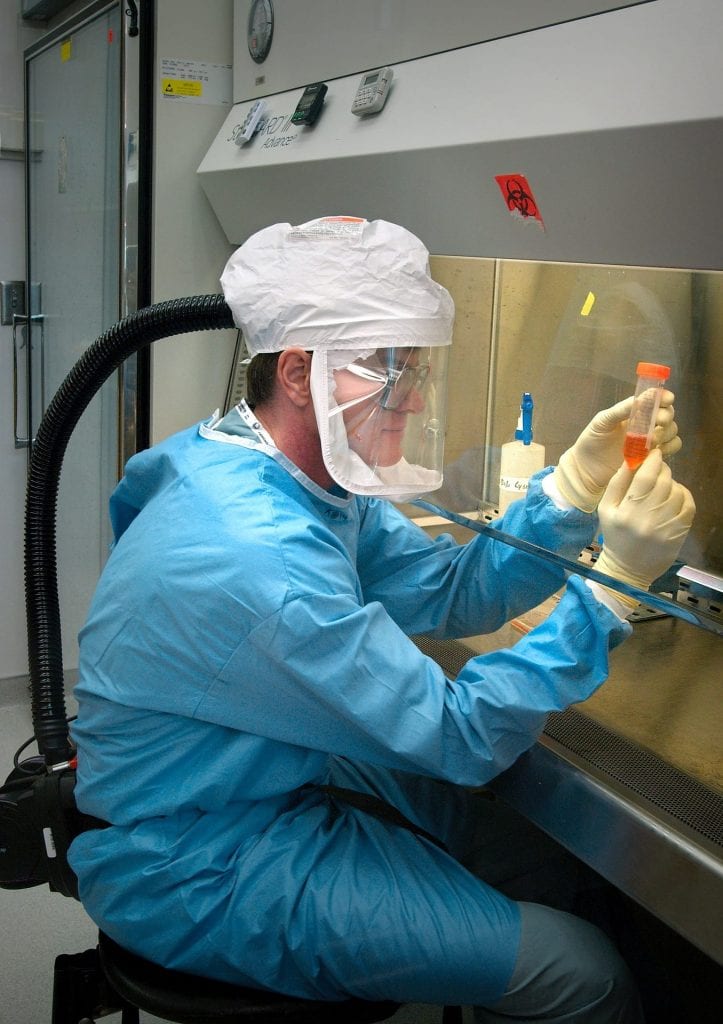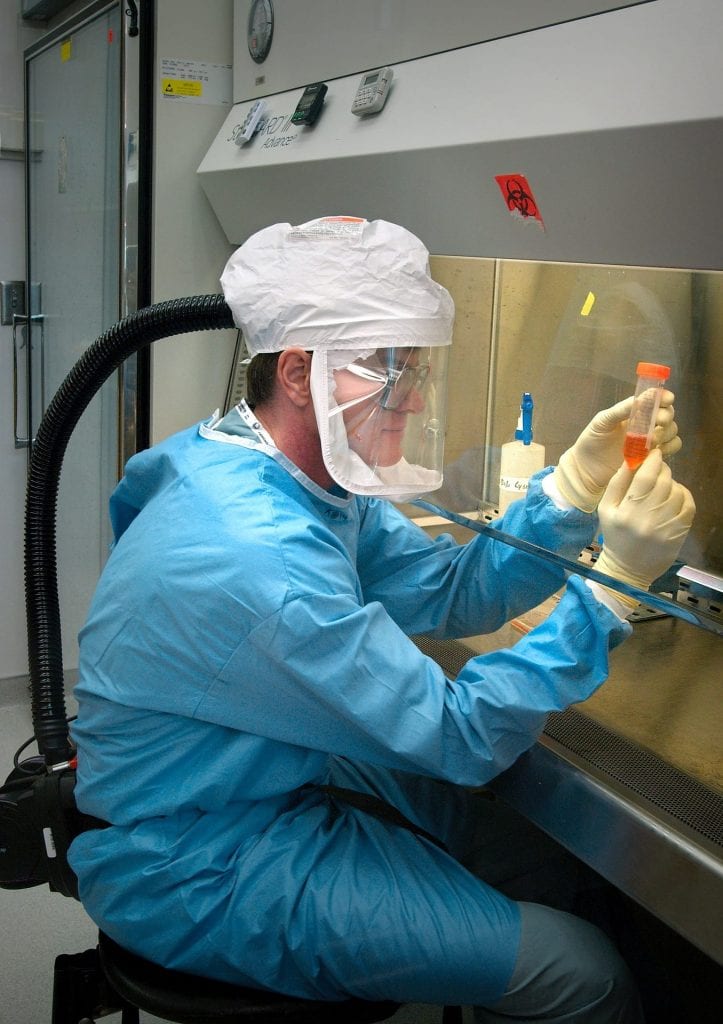 Biosafety Level Labs
What is a BSL?  Sounds kind of scary, but they are very important in research and diagnosing disease.  BSL stands for Biosafety Lab.  There are four levels of BSLs.  Each handles increasing levels of infectious material, and therefore require higher measures of protection for lab workers.
Podcast: Free Audio File
If you prefer to listen to podcasts, feel free to play the audio version of this blog by clicking on the player above.
Podcast: Biosafety Labs
Length: 5:14 minutes
Written and read by the author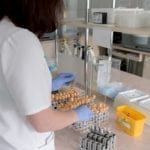 Biosafety Level 1
Biosafety Level 1 is the lowest level, with the least potential for human health or environmental risk.  Biological agents handled in this type of lab do not cause disease in healthy adults.  There is very low risk of aerosol exposure.  Work tends to be carried out on open bench tops.  Think of the high school biology lab or the in-house lab in a veterinary hospital; nothing too scary here.  Common personal protective equipment (PPE) in this setting is lab coats and exam gloves.  Goggles or masks are not necessary.  Hand washing when leaving the lab is required.  Eating, drinking or smoking are not allowed in the lab.  There must be a sink for hand washing.  Sharps (needles, broken glass, or scalpels) are disposed of in an appropriate manner.  Lab equipment is decontaminated routinely.  Doors are in place to prevent access by unauthorized personnel.  All potentially infectious materials must be decontaminated before disposal.        
Biosafety Level 2
Biosafety Level 2 incorporates all the requirements of a BSL 1 while adding additional safety measures to protect against pathogens that pose a moderate risk to humans and the environment (Hepatitis A, B, and C viruses, E. coli, or Salmonella for example).  Some major differences are restricted access to the lab (locking doors), specific training for lab personnel, and use of a biosafety cabinet (BSC) for any potential infectious aerosols.  Personnel is provided with appropriate vaccinations and medical surveillance for any agents that are handled in the lab.  All personnel must demonstrate proficiency in any procedures that will be required in the lab.  Renewal of this proficiency can be required annually.  Additional PPE includes eye and face protection (mask, goggles, or face shield) or respiratory protection.  In addition to a sink for hand washing, there is an eyewash station.  Negative pressure circulation of the ventilation system is recommended, but not required.  All waste is decontaminated before disposal, either by autoclave, chemical disinfection, incineration, or another approved treatment method.
Biosafety Level 3
Biosafety Level 3 labs build upon the BSL 2 requirements to handle agents that pose serious or potentially lethal inhalation risk to human health (tularemia, TB, SARS coronavirus, Q fever, Brucella spp, or West Nile Virus).  BSL 3 labs tend to be diagnostic, research, or teaching labs.  A BSC must be used for the manipulation of infectious materials.  Lab personnel wear protective closed front clothing.  This clothing must be removed before leaving the laboratory.  Other PPE, such as gloves, face and eye protection is used at all times.  Doors must be self-closing and locking, with two sets of doors to pass through.  These help to maintain the negative air pressure in the lab.  It is recommended to have a changing room included in this passage.  Shower-out capabilities are encouraged, but not required.  Floors, ceilings, and walls are covered in a material that is sealed to allow for cleaning and disinfection.  Air flow from BSCs and the lab goes through HEPA (high-efficiency particulate air) filters before being discharged to the environment.  The entire facility and protocol manual are re-verified annually.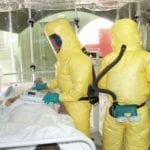 Biosafety Level 4
A BSL 4 lab handles agents that are known to have a high risk of aerosol transmission or agents that are frequently fatal with no available vaccine or treatment (Ebola, Hendra, smallpox, and some Flaviviruses).  This is the type of lab often portrayed in movies like "Contagion".  The lab needs to be in a separate building, or in an isolated zone within a building.  A log of all persons entering and exiting the lab is maintained.  Any personnel entering the lab change into approved clothing before entering the lab, and shower out before changing back into street clothes.      
There are two options for a BSL 4 lab.  A cabinet lab allows agents to only be manipulated in a Class III BSC.  The cabinet must be certified at least annually.  A suit laboratory requires personnel to wear a positive pressure suit for protection.  Approved laboratory clothing, such as scrubs, are worn under the positive pressure suits.
Biosafety Level 1-4 labs are a very important resource in the medical field.  Without them, we would be unable to safely study infectious agents.  These labs play a vital role in protecting public health.