Bovine Vaccination Recommendations
Cattle herds of all sizes benefit from the protection of herd immunity.  This is achieved by annual vaccination of all animals against diseases that are prevalent in the area.  It is especially important for any cattle that will be comingled with other herds, such as show calves or cattle that are grazed in open range situations.  Disease outbreaks are costly in terms of time, antibiotics used, and potential loss of a calf crop.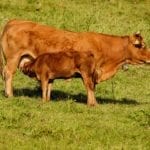 Vaccination of Breeding Cattle
As with other species, good immunity begins during gestation.  Core vaccines include IBR, PI3, BRSV, BVD, Vibrio and leptospirosis.  It is recommended to vaccinate cows annually at 30 to 60 days prior to breeding.  Other vaccinations to consider are trichomoniasis (trich), pinkeye, anaplasmosis, and anthrax. 
  Bulls should be vaccinated annually with core vaccines, as well as undergo a breeding soundness examination (BSE).  This exam will include a trich test, physical exam of the bull and palpation of reproductive structures, measurement of scrotal circumference, and analysis of semen to determine motility and morphology.  The BSE is an important part of determinizing if a bull is able to perform for the breeding season, or if he needs to be replaced, to ensure a good calf crop.   
Calfhood Vaccinations
Calves should begin their pre-conditioning program around 3-4 months of age.  These vaccines will protect against blackleg, tetanus, IBR/PI3/BRSV/BVD, and leptospirosis.  Calves that are destined for the feedyard should also receive vaccination against Pasteurella and Haemophilus somnus.  These vaccinations will need to be boostered at weaning as well.   
Heifers that are going to be used as replacements should receive a brucellosis (Bangs) vaccination between the ages of 4 to 12 months.  Brucellosis is discussed in more detail in the Infectious and Parasitic Diseases page.  This vaccination can only be administered by an accredited veterinarian.  The heifer will receive an orange tag, either a metal NUES (National Uniform Eartagging System) or RFID (Radio Frequency Identification) tag.  These tags will serve at that animal's official identification for the rest of her life.  Your veterinarian will also place a tattoo in the heifer's right ear.  This tattoo will be an "R" for the RB-51 vaccine, an official USDA shield, and the last digit of the year she was vaccinated.  If the cow ever loses her official ear tag in the future, the tattoo can be used to verify that she was indeed vaccinated. The heifers should also receive their core vaccinations prior to breeding.
Cattle Herd Health Programs
Your regular veterinarian can work with you to develop a vaccination program that best suits your herd health program.  Don't wait until you are in a wreck to begin vaccinations.  On ounce of prevention is truly worth a pound of cure.  This is especially true when keeping pounds on calves from weaning to finishing.