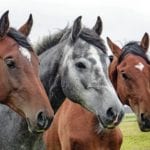 Equine Vaccination Recommendations
Horses are very susceptible to many vaccine preventable diseases.  Some of the more common ones are EEE/WEE/VEE, rabies, West Nile, and tetanus. These are considered "core" vaccinations for all horses.  Vaccination for other diseases, such as influenza, EHV 1 & 4, and strangles are based on risk.  Some horses have higher risk of exposure to many of these diseases based on their lifestyle and use.  We will cover some of the more common diseases in this post.  For more information on these and other equine disease, check out the Infectious and Parasitic Diseases page.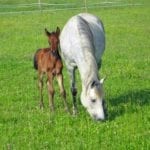 Vaccination of Broodmares
Immunity for horses is best started during gestation.  Broodmares should be vaccinated for core diseases annually.  Boosters for EHV should occur at 5, 7, and 9 months of gestation.  Other core vaccines should be boostered 4-6 weeks pre-partum.  Vaccinating the mare appropriately will provide colostrum with high antibody levels for the foal.  This is called passive immunity to the foal.  These antibodies will protect the foal until it is old enough to begin vaccinations. 
Foal Vaccinations
For foals from well vaccinated dams, the vaccine series will start at 4-6 months of age, with booster vaccinations 4-6 weeks later, and a final dose around 10-12 months of age.  Foals from unvaccinated mares, or foals suspected of not getting good quality colostrum, will start their vaccine series at 3-4 months of age, and continue on a similar schedule until 12 months of age.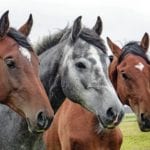 Adult Equine Vaccinations
Annual core vaccinations are recommended for adult horses. Semi-annual booster vaccination is recommended for West Nile and influenza, depending on level of risk to the horse.
Additional Information
The American Association of Equine Practitioners has a very helpful chart for both foal and adult and broodmare vaccination recommendations.  You can use this as a reference when talking to your veterinarian about which vaccines are appropriate for your horse.