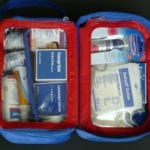 First Aid Basics
No one wants to deal with a medical emergency.  They are never planned, and always seem to occur at the least opportune time.  You can minimize the impact, and probably improve the outcome if you are prepared.
Everyone can learn basic first aid skills.  You don't have to have extensive training to handle most everyday medical issues.  There are first aid classes offered nearly everywhere these days.  Contact the local branch of the American Red Cross, the YMCA, or local colleges.  Most of the classes are offered at no cost, or for the cost of materials to teach.  Often, you will receive a book to take home.  Once you are comfortable with first aid, enroll in a CPR class.  The same groups that teach first aid will often offer CPR.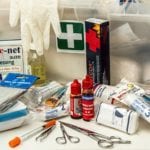 First Aid Kit Contents
After training, you need to assemble a first aid kit of your own.  You can purchase a pre-filled kit, or you can build your own.  Kits can be as basic as a few alcohol swabs and some bandages, all the way up to fully stocked trauma kits.  Match your kit to your skill level.  If you are brand new to first aid, stick with the basics.  If you have had extensive training and are comfortable with treating more severe situations, go for the bells and whistles.
I prefer the build-your-own approach.  This will allow you to expand your kit as your skills grow.  Assemble your kit first, then determine what size container you need.  There are a few items that are staples for any well-stocked kit.  Simple adhesive bandages, antiseptics, anti-inflammatories, and exam gloves are a good place to start.  A bag or plastic container can make a good first aid kit.  Keep it in a location that you can get to quickly and easily.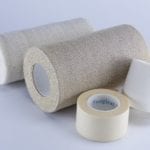 Advanced Supplies
As your skills grow, you can add in things like splints, tourniquets, topical medications, and advanced bandages such as triangle bandages or roll bandages.  Do not use anything that you have not had adequate training with.  Some treatments will worsen an injury if used improperly.  If you have animals, don't forget to include items for veterinary first aid as well.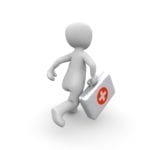 Updating Your Kit
As with any other kit, make sure to go through your first aid kit frequently to rotate out any items that are nearing expiration.  Old adhesives won't stick, alcohol swabs dry out, and medications expire.  It's always a good idea to take refresher classes for yourself as well, to keep skills fresh in your mind.