Introduction to FMD
Foot and mouth disease (FMD) is a highly contagious viral disease of over 70 species of wild and domestic cloven-hoofed mammals.  From the OIE Technical Disease Cards, the early signs include "vesicles on the tongue, dental pad, buccal mucosa, cheeks, gums, hard and soft palate, nostrils, muzzle, feet, corium of dewclaws, interdigital spaces, or teats".  These vesicles will rupture, and become very painful erosions.  In later stages of the disease, erosions on rumen pillars and gray or yellow streaking of the heart will be noted.
Vesicles on susceptible species have to be differentiated from vesicular stomatitis, swine vesicular disease, or vesicular exanthema of swine.  Other less common diseases on the list of rule outs include: bovine viral diarrhea and mucosal disease, infectious bovine rhinotracheitis, bluetongue, and malignant catarrhal fever.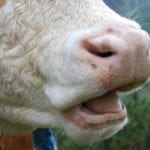 Infection with FMD
The virus that causes FMD is a small, icosahedral, non-enveloped RNA virus in the Picornavirus family.  Some animals may become persistently infected with FMD virus.  These carrier animals can be a source of new outbreaks.  
The virus can be spread by aerosols, saliva, milk, urine, semen, and fomites.  The incubation can be as short as 2-8 days in sheep and 2-14 days in cattle.  Only a small portion of infected animals become symptomatic, the rest become carriers for up to 6 months.  Due to these very short incubation times, the virus can spread very rapidly through a vulnerable population.  
FMD and Wildlife
Cloven-hoofed wildlife, such as deer, antelope, and wild pigs can be affected, but at this time it is uncertain the role they could play in acting as a reservoir for transmission to domestic livestock.   Work is being done to safeguard wildlife populations and decrease the impact on the ecosystem during an FMD eradication effort.
Diagnosing FMD
The disease is initially diagnosed based on clinical signs, then confirmed by laboratory testing.  The "Gold Standard" test is virus isolation.  This test requires 1g of epithelial tissue or esophageal-pharyngeal fluid collected with a probing cup.  These samples are processed and then injected into mice or BHK-21 cell cultures. For more rapid results, an ELISA test was developed that was more specific and sensitive than virus isolation.  Other tests that are used include reverse transcription PCR (RT-PCR), multiplex RT-PCR, lateral flow device, reverse transcription loop-mediated isothermal amplification (RT-LAMP), gold nanoparticle improved immune-PCR (GNP-IPCR).
Economic Impact of an FMD Outbreak
In any country, an FMD outbreak is very costly to the farmers and the government.  It is not uncommon to have food shortages and general devastation of livestock agriculture, such as Mexico in 1947.  In some of the smaller outbreaks in other countries, it was estimated that household income was reduced by 4-12% overall, with families that were directly affected suffering up to 60% loss of income.  It is difficult to accurately determine to the economic impact of an outbreak in endemic countries.  It is estimated that the disease costs between $6.5-21 billion USD annually in production losses and vaccination costs in endemic countries.  The current price of the vaccine ($0.40-3.00 USD) is often prohibitive for economically-developing countries.
The OIE has a prescribed waiting period before exports can be resumed.  This is 3 months if vaccinated animals were culled, and 6 months if they were not.  This waiting period is due to the lack of DIVA (Differentiating Infected from Vaccinated Animals) vaccines.
This is a highly contagious disease, so active surveillance and quick diagnosis is important.  Initial control measures include precautions at the borders, monitoring, screening, general and target surveillance, zoning, movement control within the country, depopulation of infected and contact animals.  Vaccination, if used, needs to be initiated early in the response.
Many of the outbreaks are recurrences of previous outbreaks in poorer countries.  This is most likely due to the lack of necessary financial resources to eradicate the disease.  The economic impact is worsened by the loss of trade due to outbreaks.
Eradication of FMD
In conclusion, Foot and Mouth Disease is an economically devastating disease, affecting most of the major livestock species.  Many countries have been able to eradicate the disease when outbreaks occur.  Others are only able to control it and struggle with frequent recurrences of outbreaks.  Many of these countries do not have the economic resources to adequately eradicate the disease.  FMD is on OIE's list of diseases that are being looked at for global eradication.  It is only with a united eradication program and adequate funding that FMD will go the way of small pox and rinderpest.
For additional information, please visit: