Podcast: Free Audio File
If you prefer to listen to podcasts, feel free to play the audio version of this blog by clicking on the player above.
Podcast: Garlic and Onion Toxicity
Length: 4 min 39 seconds
Written and read by the author
Garlic and Onion toxicity
There is a lot of confusion regarding garlic and onion toxicity in pets. Is it real? Or is it a solution to fleas? Perhaps big veterinary corporations are propagating the toxicity myth to sell more flea medication. What is the truth?
The short answer is that this is a real toxicity for dogs and cats. I have even needed to give a blood transfusion on two occasions to address it. So let's cover this fascinating situation – for one species, it is a terrific seasoning and way to strengthen morning breath, for another species it is toxic.
Let's talk a little about the myth first
Every myth has some truth to it. Just as every good lie does. The use of garlic as medicine dates all the way back to ancient Sumeria (2600 – 2100 BC).  It has been used in ancient China, India, and Egypt. The use of garlic therapeutically is still used throughout the world today, in humans. The debate here is not whether or not it can help people but to dispel that it does not support pets. Even those incorrectly promoting the use of garlic in pets concede that high levels of garlic and onions can be harmful. The prevarication comes in stating that smaller amounts are not only safe but beneficial to pets. After all, that is how most drugs work right? There is a therapeutic index or a dosage that provides benefit. Then at excessive levels toxicity can occur. It makes sense. Or does it in this case?[i]
Meet the Allium Family
In Latin, Allium means garlic, but the family of plants incorporates hundreds of species and includes: garlic, onion, shallots, chives, scallions, and leeks. Some molecular groups of the Allium family that are often attributed to human salubrious effects are the flavonoids and sulphoxides. Flavonoids include many different molecules and can vary from species of plant and even from the location of where they are grown. Flavonoids are well established as having beneficial effects for both humans and pets.
The concern comes with the sulphoxides. There are several of these compounds that are associated with toxicity, but the primary toxin is n-propyl disulfide. All of these sulphoxides work similarly by inhibiting a necessary enzyme within red blood cells. This enzyme regenerates and supports the vital antioxidant known as glutathione. Without glutathione, hemoglobin becomes damaged and precipitates on the surface of the red blood cell. When this occurs, the body will remove these red blood cells through intravascular and extravascular methods[ii].  
Simply put, any amount of garlic or onion causes red blood cell loss
This means that every time a susceptible animal eats a little onion, garlic or leek, they will damage and lose some red blood cells. Since the average healthy mammal has plenty of red blood cells and can quickly make more, removing small to moderate amounts of red blood cells can be done without any apparent adverse effect. This is also a reason why bloodletting has been used for centuries as a therapy. Benjamin Rush, one of the first surgeon generals in the United States and a hero of the Revolutionary War, was an ardent supporter of the scientific benefits of bloodletting. Whether considering bloodletting or the use of garlic to "make blood unappetizing" to fleas, we need to use a proper scientific approach. When done, we quickly stop using both of these "therapies."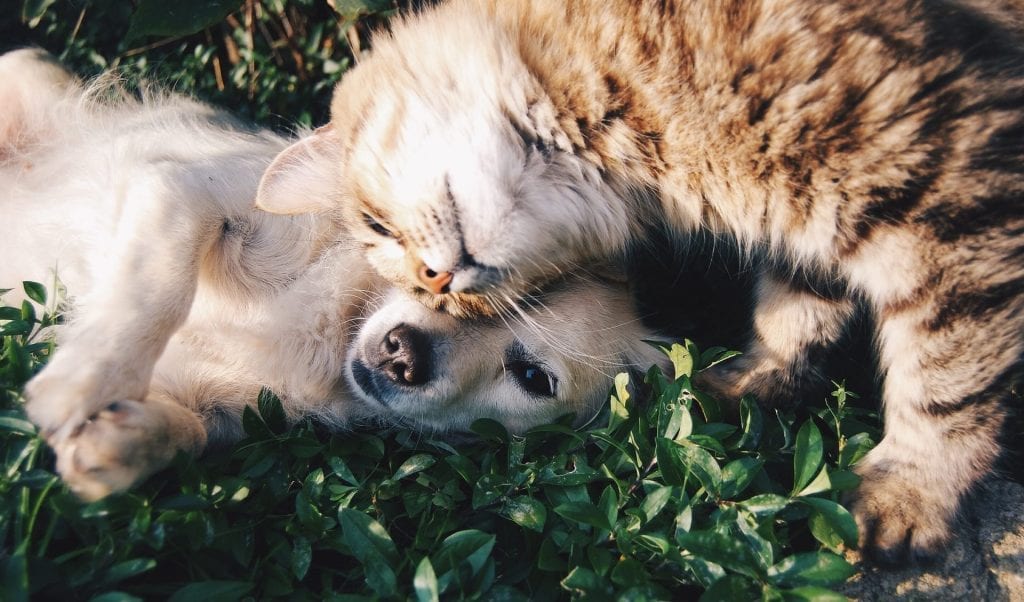 What species are affected?
Dogs, cats, horses, and cows are among the species that negatively affected by Allium plants. Sheep are not particularly affected by onions. One study showed no effect on sheep eating a diet of 50% onions. While you might not want to be in an enclosed space with an onion-eating sheep, the situation won't kill anyone. Some people may have a genetic deficiency of the enzyme that onions interact with, but as a general rule, onions are not toxic to people [ii],[iii]
What forms of garlic and onion are toxic to pets?
For pets, all forms of Allium plants, cooked or raw are toxic. In my professional experience, routine use of garlic or onion powder has resulted in severe, acute cases. Any food or food scraps containing allium plants are not esculent for pets. So be liberal with your Allium plants when creating your savory dishes this holiday season. Just don't share with your pets.
References
[i] Petrovska, B. B., & Cekovska, S. (2010). Extracts from the history and medical properties of garlic. Pharmacognosy Reviews, 4(7), 106–110. http://doi.org/10.4103/0973-7847.65321
[ii] Kovalkovičová, N., Šutiaková, I., Pistl, J., & Šutiak, V. (2009). Some food toxic for pets. Interdisciplinary Toxicology, 2(3), 169–176. http://doi.org/10.2478/v10102-009-0012-4
[iii] Onion | ASPCA. (n.d.). Retrieved November 09, 2017, from https://www.aspca.org/pet-care/animal-poison-control/toxic-and-non-toxic-plants/onion
[amazon_link asins='B001650NNW,B0779T3Z2P,B0002AR0I8,B00HPZEM4S,B008Y508SW,B01MG5MAP5,B01N321BAS' template='ProductCarousel' store='vetzone-20' marketplace='US' link_id='bd38799c-ccae-11e7-ae34-6767ede9d959']