Sea lions in California are once again battling a debilitating and fatal disease.  This disease affects multiple species, including humans.  It may sound like the next zombie apocalypse heading our way, but in truth, it's a very old disease.
Leptospirosis was first described in 1883.  Since that time, the bacteria have been found across the world, favoring warm, humid environments.  Leptospira is a genus of spirochete bacteria with the unique ability to infect almost all mammalian species.  To date, more than 250 pathogenic serovars and 50 nonpathogenic serovars have been identified. Preferring to live in water, risk of infection with Leptospira spp. is greatest after localized flooding.
Serovars and Their Hosts
Mice and rats act as reservoirs for the Icterohaemorrhagiae and Grippotyphosa serovars.  Cattle host Hardjo; horses carry Bratislava; pigs harbor Pomona and Bratislava; and dogs have Canicola.  Humans are thought to be incidental hosts.  Young animals are at greatest risk of disease.
Pathogenic Leptospira spp. only replicate in the host.  The bacteria can survive in stagnant water or contaminated soil for several months in ideal conditions.  However, most common disinfectants, dehydration or temperatures greater than 122°F are fatal to the bacteria.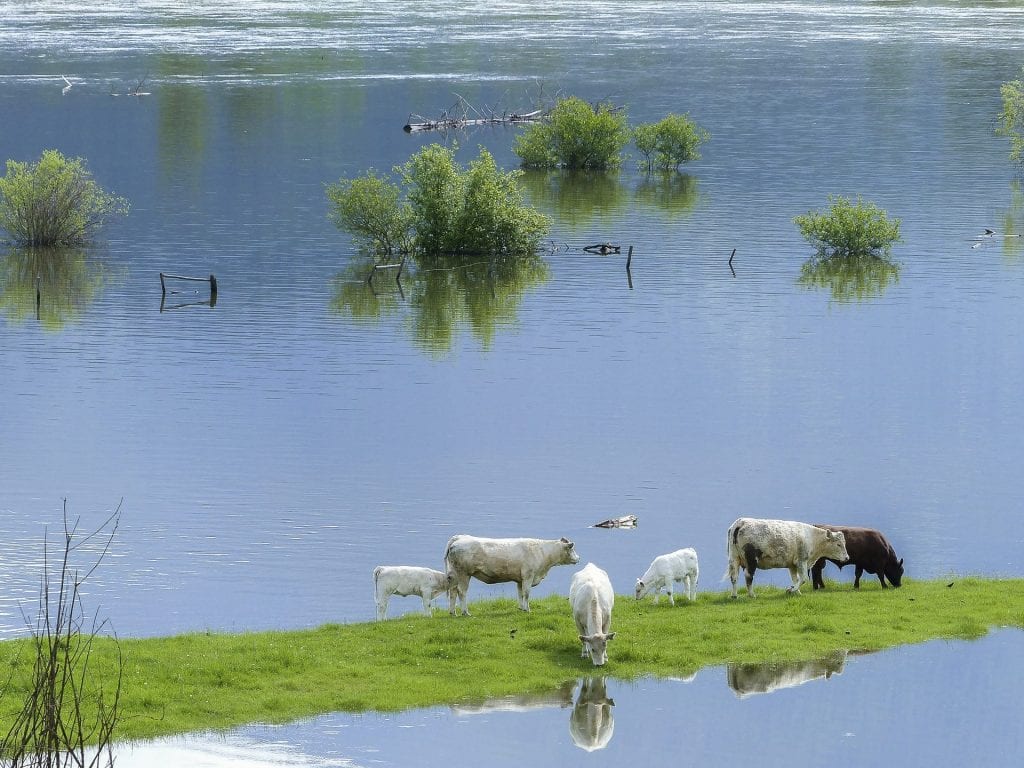 Environmental Contamination
Urine from infected individuals contaminate water sources and nearby soil.  Infected birth products similarly contaminate the environment.  A mammalian host that consumes contaminated food or water becomes infected.  Leptospira spp. can also infect the host through mucous membranes or wounds.  The bacteria target the liver and kidneys of the host, leading to organ failure and death.  Diagnosis of acute cases is made by PCR.  Tissue culture is definitive but can take from 13 to 26 weeks.
Range of Clinical Signs
Each species of host exhibits slightly different clinical signs.  Incubation times range from 5 to 15 days.  Most livestock will have fever and abortions (from 1 to 12 weeks post-infection), with horses displaying abortions, conjunctivitis and light sensitivity (equine recurrent uveitis or "moon blindness").  Dogs have a range of signs, including fever, vomiting and diarrhea, muscle pain, and eventually renal failure.  Human clinical signs begin as flu-like symptoms, progressing to liver and renal failure.  Cats seem to be resistant to disease.
Treatment and Prevention
If caught early, before extensive organ damage occurs, leptospirosis can be treated with various antibiotics, including penicillins or tetracyclines.  Often, supportive care determines the success of the outcome.
Many effective vaccines protect pigs, cattle and dogs against leptospirosis.  Any animals at risk for exposure to contaminated water or soils should be vaccinated.  The best prevention for humans is to vaccinate animals and avoid contact with urine or tissues from infected animals.  Rodent control and good biosecurity remain important.
For more information, please visit: