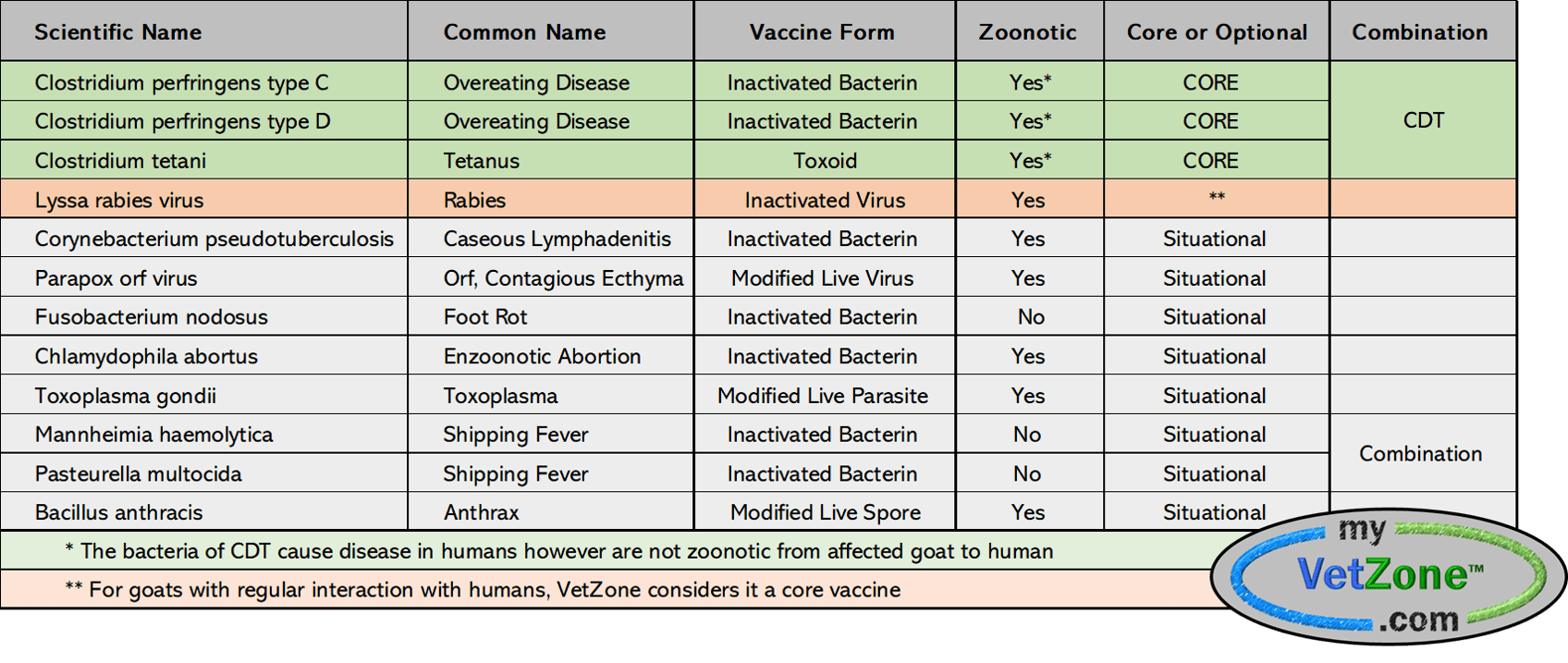 Optional Goat Vaccines - An Overview
One of my all-time favorite TV shows is Frasier from the '90s. In one episode, Frasier's brother Niles reminds us of the axiom, "Less is more," to which Frasier quips, "Yes but if 'less is more,' think how much more, more would be!" In our last podcast, we discussed the importance of rabies vaccines in goats who interface with people. While the incidence is rare, the need is great.
After hearing about the risks of rabies, it might be natural to start budgeting for all-the-other vaccines available to the goat producer. Well, not so fast. We will cover the other eight antigenic vaccine options for goats, but they are situational. Many backyard goat herds can be properly protected with just CDT and rabies. Please consult your veterinarian and inquire if any of these vaccines are indicated for your goat herd.
Podcast: Free Audio File
If you prefer to listen to podcasts, feel free to play the audio version of this blog by clicking on the player above.
Podcast: Optional Goat Vaccines - An Overview
Length: 5 minutes 13 seconds
Written and read by the author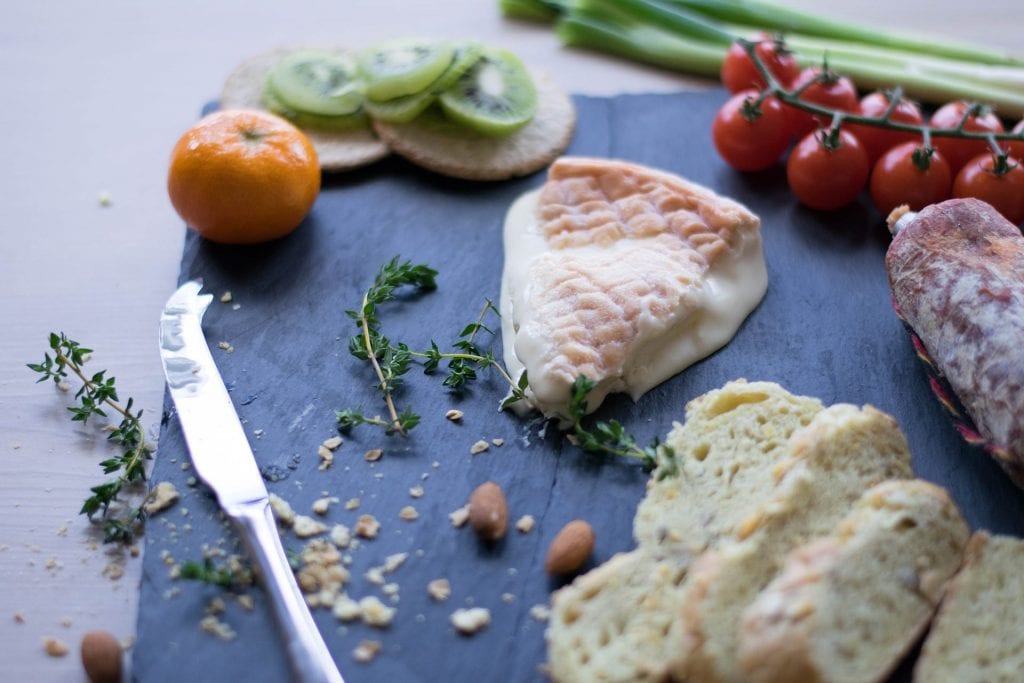 Caseous Comes From the Latin Word for Cheese.
Here we go.
1) Caseous Lymphadenitis. The bacteria, Corynebacterium pseudotuberculosis, creates abscesses in peripheral lymph nodes such as under the jaw (submandibular) or under the armpit (axillary). The word caseous originates from the Latin word for cheese. Infection in different species generates different qualities of, err… cheese. In the case of goats, think of runny, distasteful camembert as the pus will come out soft and creamy. Don't worry though, typically this pus bears no odor. The bacteria can be found worldwide but is highly demographic in risk. This disease is zoonotic, meaning that it can be transferred to people. And no, if infected you will not become human camembert that anyone will want at parties. You will be in hospital.
2) Contagious Ecthyma. Orf is a parapox virus of sheep and goats although it does sound like a dwarf of Tolkien's middle earth. It creates crusting lesions on the lips which resemble Foot and Mouth Disease (FMD). It is also zoonotic, and a great summary can be found at VetZone's podcast called "Don't Share the Orf."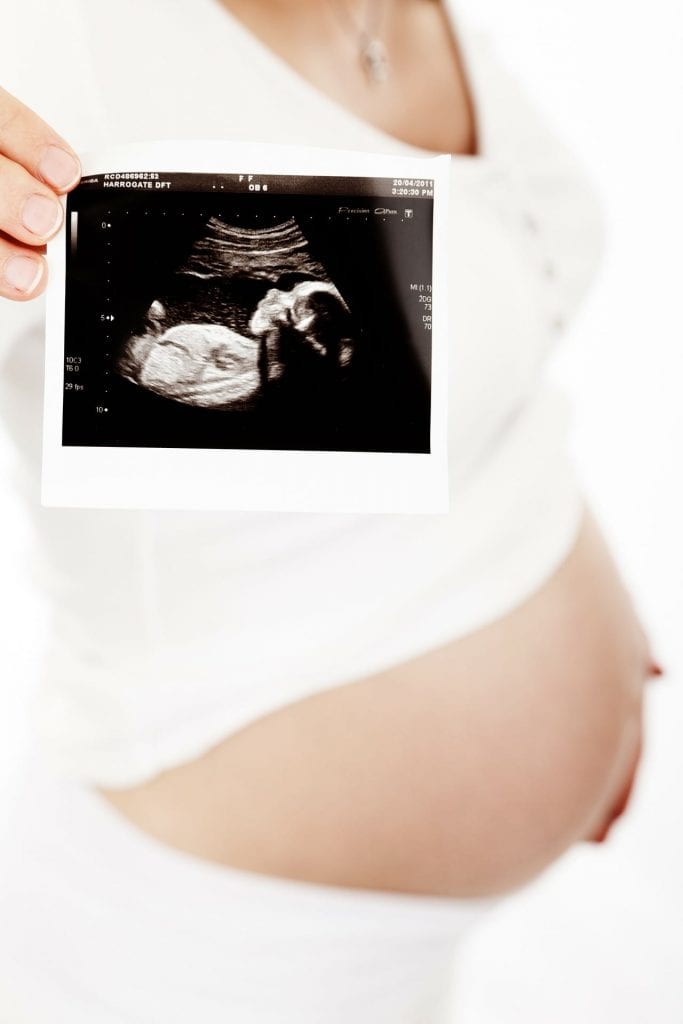 Chlamydophila and Toxoplasma Can Cause Abortion in Goats
3) Foot Rot. Far worse than athlete's foot, this bacterial infection can be debilitating. Usually, most backyard producer environments do not create the need for this vaccine. The vaccine generates antibodies to the bacterium Fusobacterium nodosus, but the condition is created by a dual bacterial infection including Dichelobacter nodosus. Yes, the bacteria include two different genera with the same species name: nodosus. Since this is not zoonotic, you just need to worry about athlete's foot.
4 and 5) Abortive agents. The bacteria Chlamydophila abortus and the parasite Toxoplasma gondii represent two pathogens which can cause abortion in goats. Unfortunately, both are zoonotic and can lead to miscarriage in people. They are dangerous pathogens, but the vaccine is not always needed, even for the goat breeder.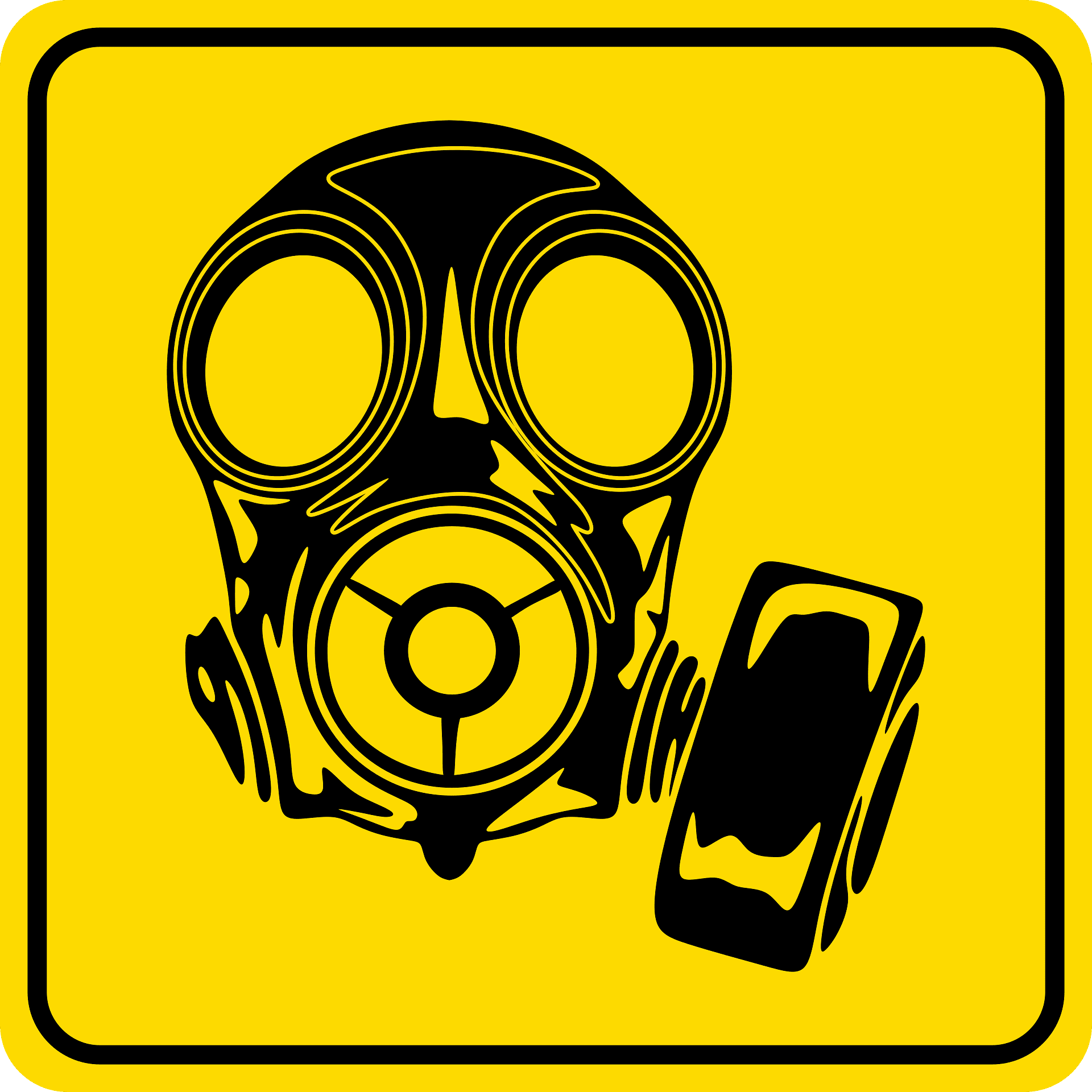 Anthrax Threatens Goats and People
6 and 7) Shipping Fever or the two bacteria that commonly cause bronchopneumonia. Most vaccines for this include both Mannheimia haemolytica and Pasteurella multocida. The shipping process generates fear and stress for many animals. As a result, the stress predisposes them to various pathogens. With happy, non-stressed backyard herds, this vaccine is often not needed.
8) Anthrax. Yep, goats can get anthrax – the same bacteria, Bacillus anthracis, which we worry about with biological warfare. This Gram-Positive bacterium is worldly ubiquitous and can cause sudden death in goats. Luckily, most herds do not require this vaccine.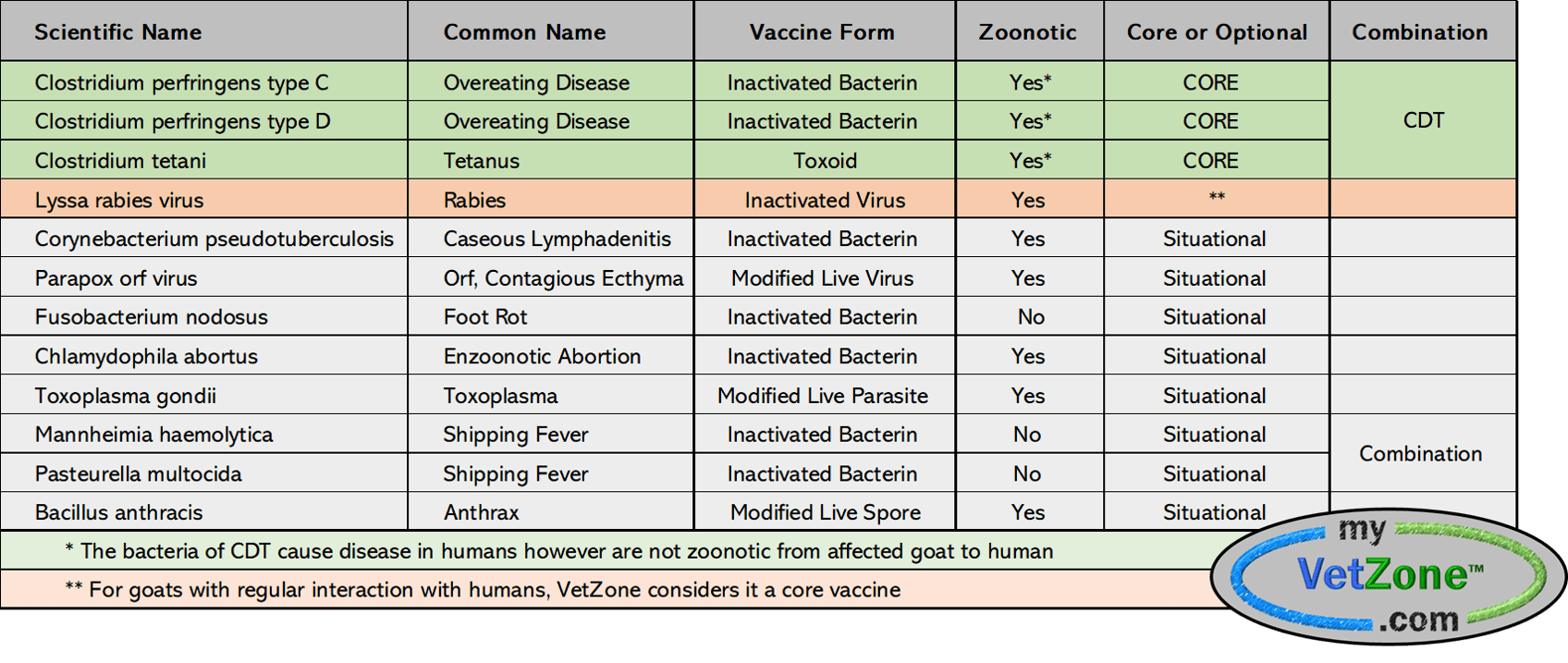 Not Every Goat Needs Every Vaccine
In summary, beyond CDT and rabies, there are many other vaccines available to the goat producer. We have provided a free table for download at myvetzone.com. The USDA requires strict standards for both safety and efficacy. Despite this, not every goat needs every vaccine. If indicated, we should never shy from a vaccine as they save more lives than any other single human advancement other than clean water. Still, if you or your goat do not need protection from a vaccine, there is not need to administer it. Remember, less is more so, don't ponder "how much more, more would be!"
References and Additional Reading
[amazon_link asins='1118553985,1935660020,0199946647,130526892X,1607951789' template='ProductCarousel' store='vetzone-20' marketplace='US' link_id='aa3e86be-ce1c-11e7-ae16-0944a45c35a3']