How do you pronounce "proboscis?"
One of my favorite teachers, a forensic entomologist, held a pet peeve for pronouncing the mosquito's mouthparts as "pro-baa-skus (prəˈbɑːskɪs)" instead of "pro-baa-sis" (prəˈbɑːsɪs). She would remind everyone we study "Science," not "Sky-unce." Long before I learned about this controversy, I remember stabbing my juice box with my dinosaur-mosquito mouthpart and imagining sucking cherry flavored juice out of a T-Rex. I would never suck blood out of a prehistoric herbivore because after my PB&J intermission, I would continue on as an intrepid triceratops lurking amongst the hydrangeas.
Little did I know that the proboscis mechanism included the complexity of six needle-like projections held within a sheath.  My juice-box intermissions are now… I mean, were considerably longer. Let's examine the mosquito head anatomy.
Podcast: Free Audio File
If you prefer to listen to podcasts, feel free to play the audio version of this blog by clicking on the player above.
Podcast: The Mosquito Has a Smile Like No Other
Length: 5 min 43 seconds
Written and read by the author
You can tell their gender often by their antennae
Between two compound eyes which comprise the majority of their round bulbous head, two long antennae turn slightly upward. Feathery antennae often indicate a male mosquito and thus no risk to you, as males take nourishment only from plants. Mosquitoes form an important component of the ecosystem. Beyond a food source, some orchids such as the endangered monkeyface orchid, rely on mosquitoes as primary pollinators. These elaborate feathery antennae allow males to listen for and hone into the frequency of female mosquito wings. With over 3000 species of mosquito, it is crucial to be able to correctly identify and locate the right mate.
Mosquitoes have an excellent sense of smell
Below the antennae, the much shorter palps provide additional olfactory information. Carbon dioxide excites them, and even specific body odors betray what species you are. Yep, mosquitoes hold taste preferences to different species. While we may feel that they are all out to get us, only about 80 of the 3000 species will feed on humans, and only a couple have an exclusive preference for us. If that still makes you nervous, better get in touch with your Zen because sweat molecules like lactic acid act as prime signals. As humans, we can taste compounds that attract also mosquitoes. While used as an artificial mushroom flavor, 1-octen-3-ol naturally presents in not only mushrooms but in our breath and sweat.
The mosquito proboscis is complex!
Between these elaborate sensory organs lies the long proboscis. Often more than twice the length of their head, the lips surrounding the proboscis make for quite a smile. Think of having a two-foot lower lip which wraps around 6 needle-like teeth. Your smile would be vertical and likely terrifying. The Latin word for lip is labium, and thus names this protective outer layer.
Two of their massive rapier teeth are just that, rapiers – slicing utensils which shear through epidermis. For a term used regarding our own jawbone, the term maxilla fails to impress me. Two probing digits called mandibles gently spread the skin like a surgeon's fingers helping the maxillae slice deeper and deeper. To assist with this surgical drilling, the hypopharynx squirts a complex liquid with over a hundred helpful molecules. Vasoconstriction, platelets, coagulation, and inflammation can impede their food quest. This liquid addresses these, acts as an anesthetic and is later responsible for your itching. Pretty cool for something just called saliva. The hollow labrum, the final piece, sits atop the other five. They all interlock and visually appear as a single, highly functional drill. Together we call these six pieces a fascicle, the portion of the drill that sinks beneath the skin. The labium, the sensory and protective sheath, and non-penetrating part of the proboscis maintains close contact to the entry site to monitor.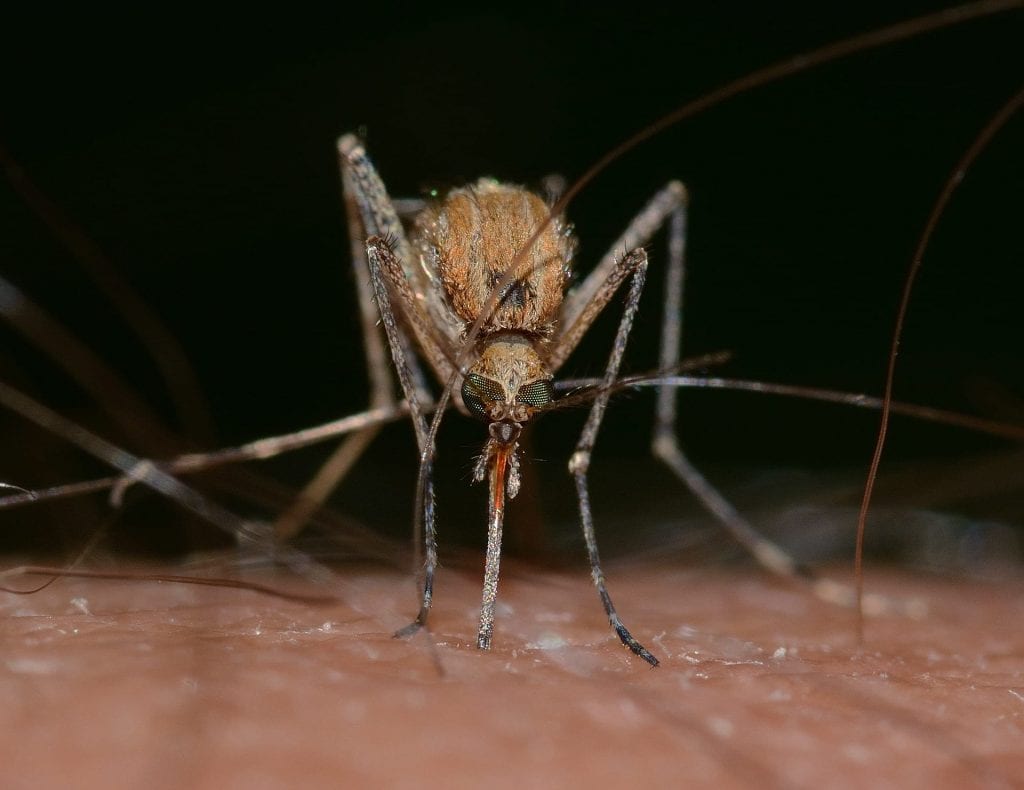 "Insects won't inherit the earth - they own it now." -Thomas Eisner, entomologist
The female mosquito drinks 3 times her body weight in blood. To make this even more worth her while and more disgusting and perhaps insulting, she pees on you as she sucks your blood. This allows her to take more of what she wants, your blood cells and protein. By urinating on you, she can consume up to ten times the amount of blood as she could without.
So, if you feel violated when a mosquito bites you or your pet, you have good reason: it tore a hole into you, spat in you, robbed you of blood, pissed on you, and then left. If all of that wasn't bad enough, mosquitoes kill more humans than any other animal on Earth! With diseases like malaria, Zika, dengue, Chikungunya, Yellow Fever, La Crosse, Ross River Fever, and West Nile, just to name the top offenders, mosquitoes represent the most dangerous animal alive. So, protect yourself and your animals from mosquitoes and the diseases they harbor.
References and Further Reading
Quirós, G. (2016, June 07). WATCH: Mosquitoes Use 6 Needles To Suck Your Blood. Retrieved July 5, 2018, from https://www.npr.org/sections/health-shots/2016/06/07/480653821/watch-mosquitoes-use-6-needles-to-suck-your-blood
Raji, J. I., & Degennaro, M. (2017). Genetic analysis of mosquito detection of humans. Current Opinion in Insect Science, 20, 34-38. doi:10.1016/j.cois.2017.03.003 https://www.sciencedirect.com/science/article/pii/S2214574517300342
Soniak, M. (2012, May 30). In Defense of the Mosquito: 10 Things to Know About Summer's Biggest Annoyance. Retrieved July 5, 2018, from http://mentalfloss.com/article/30791/defense-mosquito-10-things-know-about-summer's-biggest-annoyance
(2016, August 26). Making 1-octen-3-ol (Attractant for Biting Insects). Retrieved July 7, 2018, from https://www.youtube.com/watch?v=yRXyrUnpfKs
Vogt, M. B., Lahon, A., Arya, R. P., Kneubehl, A. R., Clinton, J. L., Paust, S., & Rico-Hesse, R. (2018). Mosquito saliva alone has profound effects on the human immune system. PLOS Neglected Tropical Diseases, 12(5). doi:10.1371/journal.pntd.0006439
Wahid, I., Sunahara, T., & Mogi, M. (2007). The Hypopharynx of Male and Female Mosquitoes. The Open Entomology Journal, 1(1), 1-6. doi:10.2174/187440790701011097 https://pdfs.semanticscholar.org/9a66/c2e431f7c9c9b0e63990a07159951e0d961e.pdf
Zainulabeuddin Syed, Walter S. Leal; Maxillary Palps Are Broad Spectrum Odorant Detectors in Culex quinquefasciatus, Chemical Senses, Volume 32, Issue 8, 1 October 2007, Pages 727–738, https://doi.org/10.1093/chemse/bjm040
[amazon_link asins='0316051632,B004MFYKM8,B01FKUXLG4' template='ProductCarousel' store='vetzone-20' marketplace='US' link_id='e87ec9e2-306a-11e8-8a9a-d982bd66bed1'][amazon_link asins='1118553985,1935660020,0199946647,130526892X,1607951789' template='ProductCarousel' store='vetzone-20' marketplace='US' link_id='aa3e86be-ce1c-11e7-ae16-0944a45c35a3']