Imagine a beautiful summer evening.  You are sitting in your chair, listening to the birds and watching deer move in.  Such a peaceful, serene, relaxing evening.  Now, imagine the same idyllic scene with no deer.
North American cervids are at risk of epizootic hemorrhagic disease virus (EHDV). As an Orbivirus, family Reoviridae, it comes as no surprise that EHDV spreads by Culicoides midges.  Cases of hemorrhagic disease were described as early as 1890, but the true culprit was finally identified and named in 1955.
Worldwide Risk
EHDV is closely related to bluetongue virus.  In Japan, the disease in cattle goes by the name Ibaraki disease.  The virus exists worldwide, in areas warm enough to support midges.  Culicoides can be carried into cooler climates on warm winds.  EHDV remains endemic in the US.
White-tailed deer are the most severely affected species.  Elk are more resistant, and domestic livestock species are rarely affected.  EHDV is not zoonotic.
The Danger of a Quick Dip in the Lake
Female midges feed on an infected animal, then transmit the virus to the next deer.  Midges prefer wet areas.  Deer are drawn to these areas in the heat of summer, leading to outbreaks of disease.  The first hard frost brings relief from the midges and the outbreak.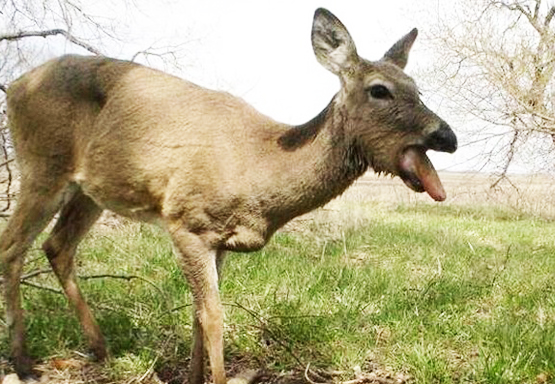 Quick Onset
Incubation times range from 5 to 10 days.  The virus causes vasculitis, leading to hemorrhage and edema.  Early signs include severe swelling of the head and neck, loss of appetite, excess salivation, fever, lethargy, and respiratory distress.  Marked swelling of the tongue leads to blue tongues and ulcers. Overgrowth of hooves leads to wall cracks and lameness in chronic cases.  Most infected animals die within 8 to 36 hours of onset of symptoms.  Morbidity and mortality reach 90% in captive white-tail herds, and 6-20% in wild deer.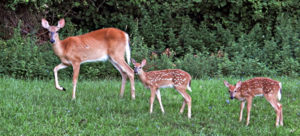 Vector Control
Submit samples of blood, spleen, lymph nodes, and lung for definitive diagnosis.  Current laboratory tests include ELISA, AGID, and virus neutralization.
There is no treatment for the disease.  EHDV does not survive long in the environment and is easily inactivated by common disinfectants.  Vector control in endemic areas remains the best prevention.  Hopefully, you will continue to enjoy catching a glimpse of deer every evening.
References and Further Reading
[amazon_link asins='1118553985,1935660020,0199946647,130526892X,1607951789' template='ProductCarousel' store='vetzone-20' marketplace='US' link_id='aa3e86be-ce1c-11e7-ae16-0944a45c35a3']