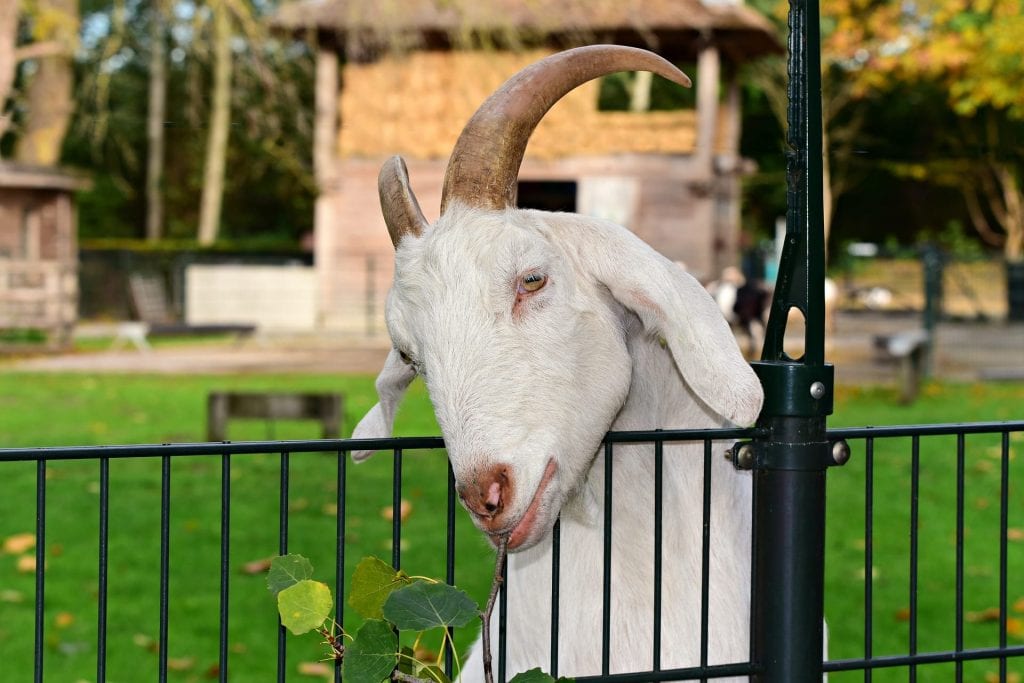 To Pet or to Fret? That is the Question.
I love capers! When I see these tasty little delicacies included in the description of a savory dish, my mouth is already watering. Being a native Californian, I also have a love for all things avocado. In my experience whether it is a pickled flower bud or a green protein- and potassium-rich single-seeded berry, they instill strong feelings one way or the other. Most people either love 'em or hate 'em. On the sweeter side, pumpkin spice lattes also appear to create this divide. I may be one of the few that have ambivalent feelings towards them. I am neither dreamy-eyed when fall issues in these squash-flavored drinks nor offended at the concept of a vegetable puree comingling with my java. On occasion they're fun.
Pettings zoos also invoke strong feelings across most people. "Oh, what fun! I love petting zoos." Or "Oh, what fun! I haven't had a contagious disease for a while." The internet also appears to be divided, from "Great ways to socialize children with animals" or providing seemingly endless lists of zoonotic diseases.
Podcast: Free Audio File
If you prefer to listen to podcasts, feel free to play the audio version of this blog by clicking on the player above.
Podcast: To Pet or to Fret?
Length: 9 minutes 16 seconds
Written and read by the author
Contagious Risk Is in the Eye of the Beholder
Contagion is in the eye of the beholder. Well, the perception of risk is at least. One might assume that backyard goat producers have run into and dealt with various goat-related zoonoses over the years. As a result of this, one might also assume that veteran backyard goat producers could perceive an overly high level of risk at petting zoos. On the other side, people whose only experience with goats is the tv or perhaps the new fad of goat yoga might incorrectly underestimate the risk at petting zoos. My experience has been the contrary. It is common for backyard producers to raise goats without any issue of zoonosis. When you have not been around goats and livestock, they may seem intimidating. Like sky- or scuba-diving, if you have never done it, they could appear terrifying, but once you go regularly, the fear vanishes.
So, if backyard producers don't see problems for decades at a time, then we don't need to worry right? Yes and no. I like petting zoos and, if you haven't learned from this goatcast series, I love goats. Any goat time I can have is wonderful. Still, when we place any topic in the VetZone, we must place amore and feelings aside. What are the risks?
Let's Consider Petting Zoos
If we limit our scope to professional petting zoos that you would find at a local zoo or animal park, we can assume that we start with healthy, pathogen-free, fully-vaccinated animals. Thus, what infectious agents can be present in the soil or as part of their normal flora which do not generate disease in them but could in us? The other scenario that we must consider is what diseases can humans bring and give to the animals, who then pass it along to other humans. Did you think of that? As much as you might be afraid of getting something from a goat, goats might be in fear of what you may bring to them. That, or they may just think about nibbling on your shoelaces.
The human to goat to human potential is one cause for higher zoonotic risk at a petting zoo rather than a backyard producer's goats who have few visitors. Also, being at a petting zoo is hard work and honestly a bit stressful for the animals. While they may appear sleepy-eyed and bored, many veterinary professionals can detect signs of stress. For local shows such as 4-H, the new environment, the transportation there, and the hustle and bustle of the show can provide even higher stress. Stress can increase the numbers of pathogenic bacteria in livestock – a major difference compared to the backyard goat herd.
The Big Four
So, when we look at the realistic possibilities, I think of the Big Four. When evaluating animal contact outbreaks in the United States between 1996 and 2012, four pathogens generated 88% of all the outbreaks. In a 2012 study, the same four constituted nearly 100 % of the attributable infections made with direct animal contact. Who are these dastardly devils? Campylobacter, Salmonella, Escherichia coli, and Cryptosporidium. Three Gram-Negative bacteria and a parasite. For why their gram-stain status is important listen to our podcasts, "I Don't Give a Gram!" and "I Do Give a Gram!"
These bacteria may exist as a part of the normal flora for ruminants, can be picked up in the environment, and may be shed intermittently. Intermittent shedding means that when we go to test an animal for these bacteria, a negative result means that we didn't see any bacteria on the sample, not that the animal is necessarily free of this bacterium. At any rate, it could be absent today and present tomorrow so testing a healthy animal is futile.
The parasite is Cryptosporidium, and while it is not a bacterium, they aren't much different in size. While several times larger than E. coli and sometimes shorter than Campylobacter, these parasites survive a wide range of temperature and even resist desiccation or dry environments. The species Cryptosporidium parvum transfers in both directions between animals and humans.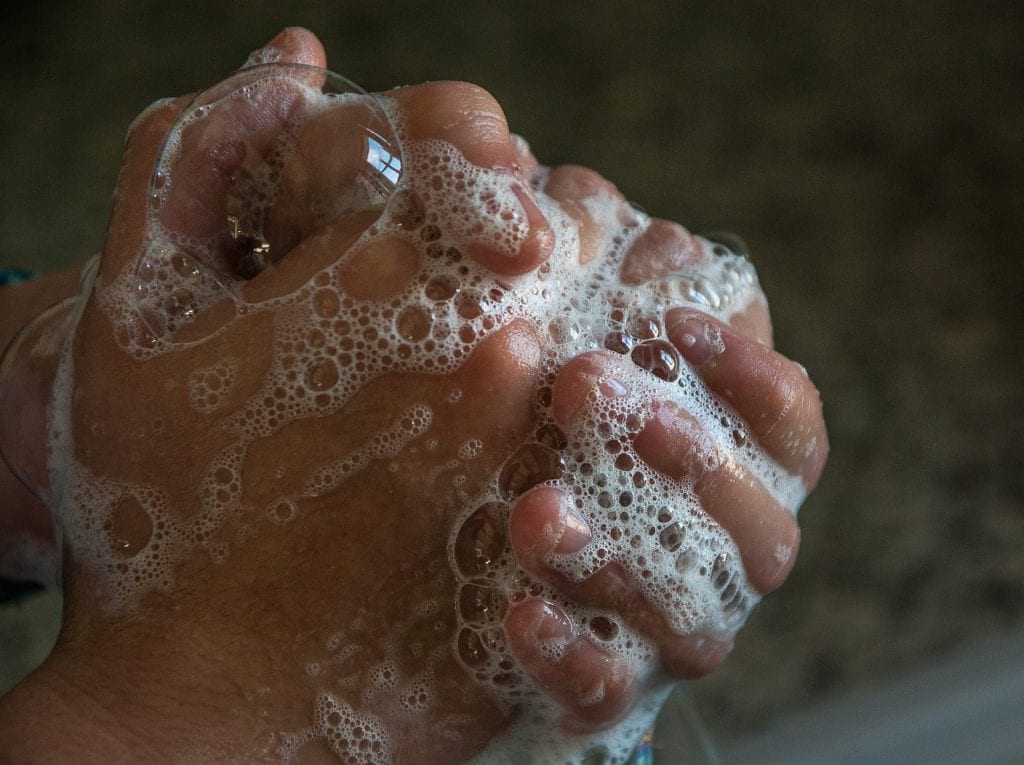 The Big Four
How do I get these pathogens from a petting zoo? These infections occur through fecal-oral transmission. You may think, "No problem, I don't do that. If I see what looks like a stray raisinet on the ground, I am not going to chance it – especially at a petting zoo." These guys are microscopic, and there's a saying in public health, "If feces phosphoresced, the world would glow." You pet a goat, there is a good chance of microscopic fecal material on your hand. Don't let that turn you off from petting zoos though, you have the same chance of this situation after shaking a lot of people's hands.
The solution? Wash your hands after… well, everything! Not only do you need to wash your hands, but you need to wash them properly. Listen to our upcoming podcast on handwashing and visit the CDC site for more information: https://www.cdc.gov/handwashing/index.html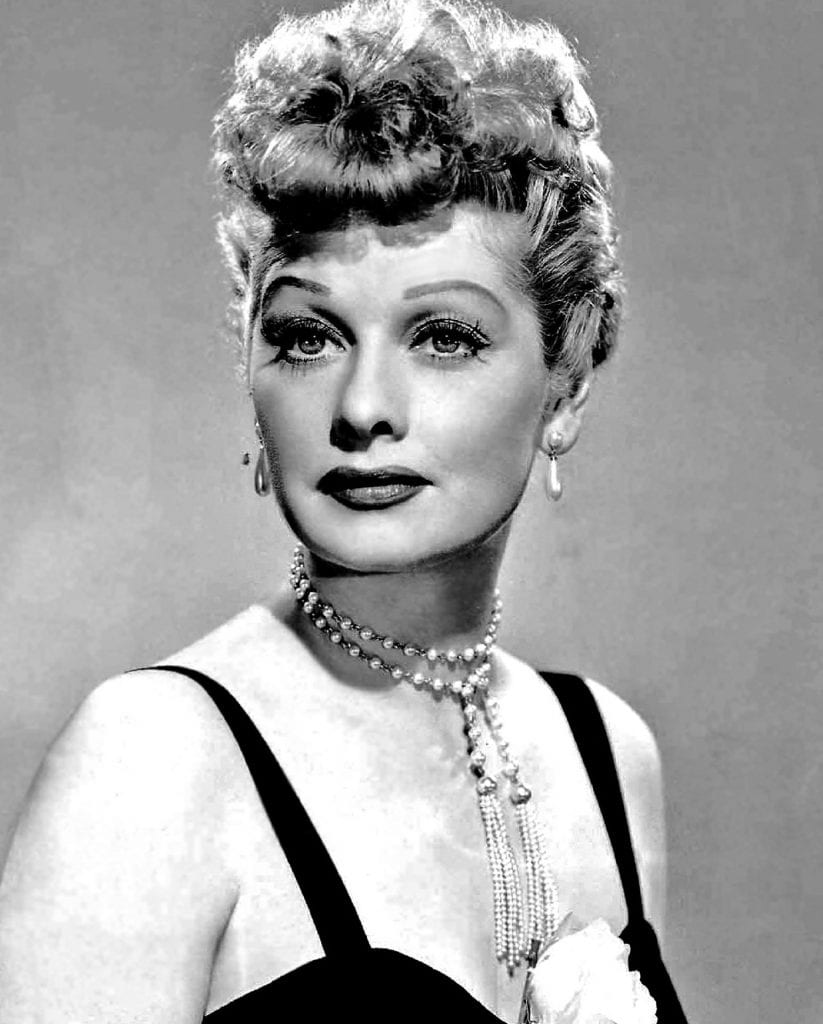 Lucille Ball's Secret to Staying Young
Proper handwashing prevents a myriad of infectious diseases and can keep you safe. I would add handwashing to the list of staying young by Lucille Ball. She said, "the secret to staying young is to live honestly, eat slowly, and lie about your age." Add handwashing, and it sounds like great advice to me.
In summary, petting zoos provide a safe environment to socialize with some wonderful creatures. Wonderful creatures, human or animal, can harbor pathogens and when stress is present, these risks may be elevated. So, have fun, interact, be safe, and of course, wash your hands.
References and Futher Reading
Bleha, Z. (2017, January 18). The Dangers of Petting Zoos. Retrieved December 29, 2018, from https://info.debgroup.com/blog/the-dangers-of-petting-zoos
Blue, M. (2016, September 29). Size Comparisons of Bacteria, Amoeba, Animal & Plant Cells. Retrieved January 1, 2019, from https://education.seattlepi.com/size-comparisons-bacteria-amoeba-animal-plant-cells-4966.html
Brainyquote. (n.d.). Lucille Ball Quotes. Retrieved January 1, 2019, from https://www.brainyquote.com/quotes/lucille_ball_136031
Conrad, C., & Stanford, K. (2017, February 1). Farm Fairs and Petting Zoos: A Review of Animal Contact as a Source of Zoonotic Enteric Disease. Retrieved December 31, 2018, from https://www.liebertpub.com/doi/full/10.1089/fpd.2016.2185
CDC. (2015, April 03). A Guide to Water Filters. Retrieved January 1, 2019, from https://www.cdc.gov/parasites/crypto/gen_info/filters.html
CDC. (2018, October 09). Handwashing: Clean Hands Save Lives. Retrieved January 1, 2019, from https://www.cdc.gov/handwashing/index.html
Fischer, G. H. (2019, January 02). Campylobacter. Retrieved April 11, 2019, from https://www.ncbi.nlm.nih.gov/books/NBK537033/
Hale CR, Scallan E, Cronquist AB, Dunn J, Smith K, Robinson T, Lathrop S, Tobin-D'Angelo M, Clogher P. Estimates of enteric illness attributable to contact with animals and their environments in the United States. Clin Infect Dis 2012;54:S472–S479. Crossref, Medline, Google Scholar
Klumb, MPH, (2016, January 15). A Perennial Problem: People, Petting Zoos, and Poop! The Veterinarian's Role in Encouraging Safe and Healthy Human-Animal Interactions, Powerpoint Presentation – recorded webinar.
Oram, B. (2014). Report #1: Giardia, Cryptosporidium and Waterborne Disease. Retrieved January 1, 2019, from https://www.water-research.net/index.php/reports/giardia-crytosporidium-and-waterborne-disease
Reeser, R. J., Medler, R. T., Billington, S. J., Jost, B. H., & Joens, L. A. (2007). Characterization of Campylobacter jejuni biofilms under defined growth conditions. Applied and environmental microbiology, 73(6), 1908-13.
Robertson, L. J., Campbell, A. T., & Smith, H. V. (1992). Survival of Cryptosporidium parvum oocysts under various environmental pressures. Applied and environmental microbiology, 58(11), 3494–3500.
USDA. (2016, January 27). Zoonotic Diseases of Sheep and Goats. Retrieved January 1, 2019, from https://www.aphis.usda.gov/aphis/ourfocus/animalhealth/animal-disease-information/sheep-and-goat-health/national-scrapie-eradication-program/CT_Zoonotic_Disease
Worms and Germs Blog. (2009, April 21). Petting Zoos for Parents. Retrieved December 29, 2018, from https://www.wormsandgermsblog.com/files/2008/04/JSW-MA2-Pet-Zoo1.pdf
[amazon_link asins='1118553985,1935660020,0199946647,130526892X,1607951789' template='ProductCarousel' store='vetzone-20' marketplace='US' link_id='aa3e86be-ce1c-11e7-ae16-0944a45c35a3']