In our fourth and final installment of prion diseases, we will discuss probably the most familiar of the TSEs: bovine spongiform encephalopathy (BSE). Most cases occur in the United Kingdom, but the disease has been found in Japan, Canada, the US, and across Europe.
First diagnosed in the UK in 1986, BSE was brought to center stage by the media during the outbreak until 2001. It was at this time that the name "mad cow disease" came into popularity. There are three strains of BSE: classical, and atypical strains H and L. As with scrapie, the classical form is infectious by ingestion, and the atypical forms are caused by a genetic mutation.
Clinical Signs
Cattle are the primary host of BSE, but the prions are infectious to small ruminants, swine, cats, mink, some species of primates, including humans. Infection occurs from ingestion of prions, usually in meat or bone meal from infected animals. In the US, the ruminant feed ban of 1997 prohibits feeding of these products to ruminants of any species. Prions are not contagious by direct contact between animals.
Young calves are most susceptible to infection, often from their infected dam. Incubation periods range from 2 to 8 years, much like other TSEs. An infected animal can go for years with no clinical signs, then deteriorate over a course of several weeks. Often the first signs noted are ataxia, trembling, behavior changes, weight loss, and drop in milk production. End stage cattle show profound neurologic compromise, leading to recumbency, coma, and death. Case fatality rate is 100%. As will all TSEs, we have no treatment or vaccine.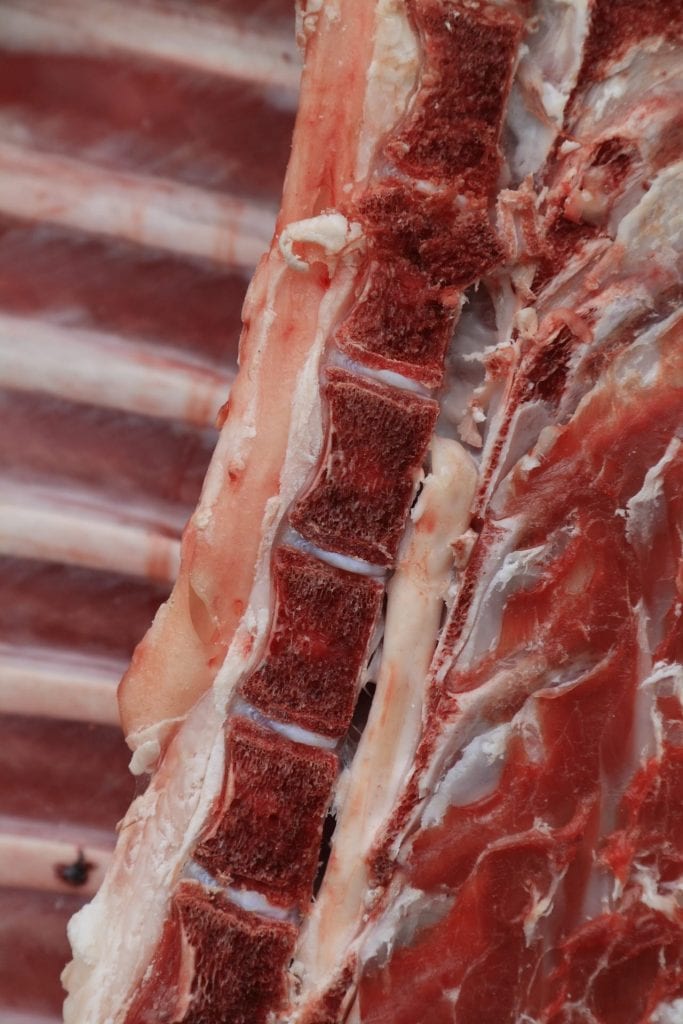 SRMs
In cattle, prions are only found in specified risk materials (SRMs). These are tissues that must be removed during processing to prevent human ingestion of prions. SRMs include tonsils and distal ileum in cattle of all ages, and skull, brain, eyes, spinal cord, trigeminal ganglia, dorsal root ganglia, and vertebral column in cattle over 30 months of age. Prions have not been found in meat, milk, or blood.
Humans who consume BSE infected SRMs develop variant Creutzfeldt-Jakob disease (vCJD). Like TSEs in other species, the incubation period takes years to develop clinical signs. Similar signs of ataxia and incoordination progress to dementia and death. The majority of vCJD cases have been linked to the BSE outbreak in the UK.
Diagnosis and Control
Diagnosis of BSE is made by examining the obex. As the name implies, areas of neuronal vacuolation and spongiform changes are noted. Essentially, prions cause holes in the brain, leading to degenerative, but not inflammatory, changes. There is no ante-mortem test available.
It should come as no surprise that BSE prions are very difficult to destroy. Cooking, rendering, and common disinfectants are ineffective against it. The prions remain infectious in the environment for extended times and can pass through predators and scavengers unchanged.
Risk of BSE and vCJD
The risk for BSE and vCJD is very low in the US. Only 6 cases of BSE have been identified to date. Strict measures are in place to prevent infected cattle from entering the food chain. All cattle presented for slaughter must undergo ante-mortem inspection and be ambulatory and healthy. All SRMs are removed during processing. Strict import requirements prevent positive cattle from entering the country. Strategic monitoring of the US cattle herd protects our food supply.
Secure Food Supply
While the incidence of CWD remains on the rise in the US, cases of scrapie and BSE are rare. Chances of finding classical BSE in your herd continues to be very low. Good herd management practices, including maintaining a closed herd, are protective.
We hope you have enjoyed this series covering transmissible spongiform encephalopathies. This is a complex group of diseases that needs continued research. Much remains to be learned.
For more information, please visit: