Imagine a story
Imagine a story. Earth's population faces extinction from a predator that takes no prisoners. Every fortress invaded; the population dies… to the last individual. No survivors, no mercy, and no solution. Then an outsider steps forth from obscurity with a gift providing hope. Sounds like a great novel doesn't it? In some ways, the story likens itself to the Marvel movie Dr. Strange who performs the impossible to turn back time and provide an answer when all seems lost.
Podcast: Free Audio File
If you prefer to listen to podcasts, feel free to play the audio version of this blog by clicking on the player above.
Podcast: Vaccinating the Un-vaccinatable
Length: 8 minutes 54 seconds
Written and read by the author
Two Women Could Change Our World
Two superhero women from the University of Helsinki hold similar powers and are working to stop extinction. Extinction of whom? Well, honeybees specifically but due to bee's importance in the global food chain and the web of life, perhaps these two scientists are helping to protect mankind from extinction as well.
Dr. Salmela holds degrees in biotechnology and genetics while Dr. Freitak's superpowers are in ecology and molecular biology. Together, these two are accomplishing the un-accomplishable – to vaccinate a honeybee.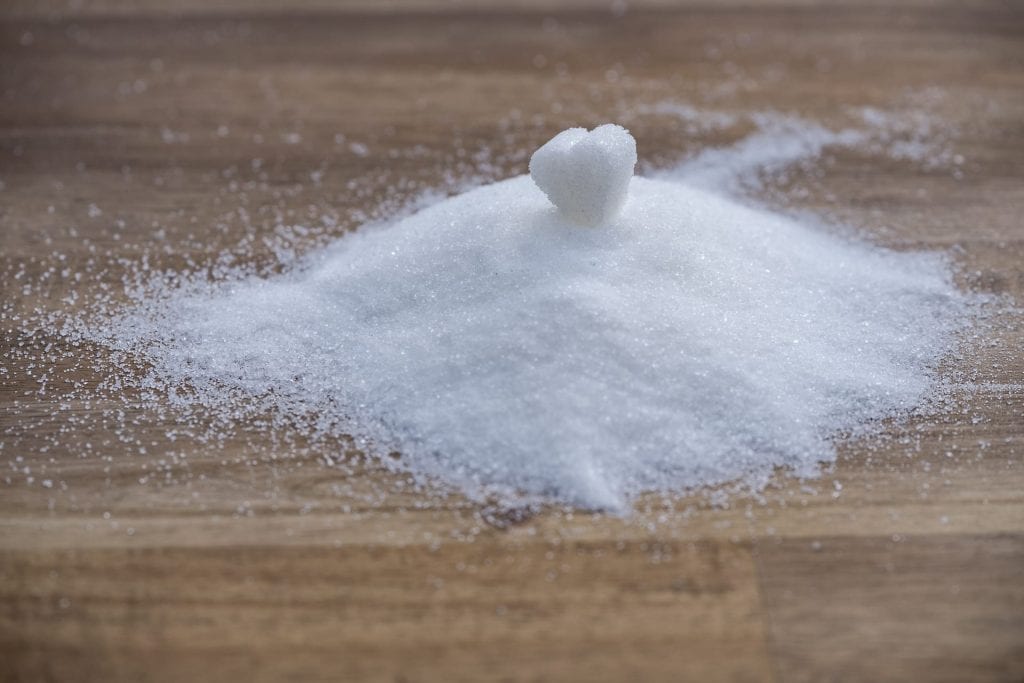 Innovation Has Never Been So Sweet
Now, you may think that the implausibility of this lies in how to inject a vaccine into a bee's shoulder and both survive the process. The delivery of the vaccine is not the hurdle. Shakespeare's quote takes a literal stance with "sweet are the uses of adversity." Like the 1960's sugar-cube polio vaccine, the honeybee vaccine is delivered orally in a sugary treat.
The obstacle is that insects don't make antibodies. In general, we deliver vaccines to an organism to stimulate the adaptive immune system. This leads to the formation of immunoglobulins specific to the pathogen. However, if you can't make an antibody, then how would a vaccine work? The assumed answer has been that "vaccines wouldn't work in insects."
For a long time, this situation posed no problems. Fewer insects? Sounds nice and cuts down on my exterminator bill, right? Well, in the '90s, when bees and butterflies began noticeably disappearing; the broader ramifications of fewer insects began to become apparent.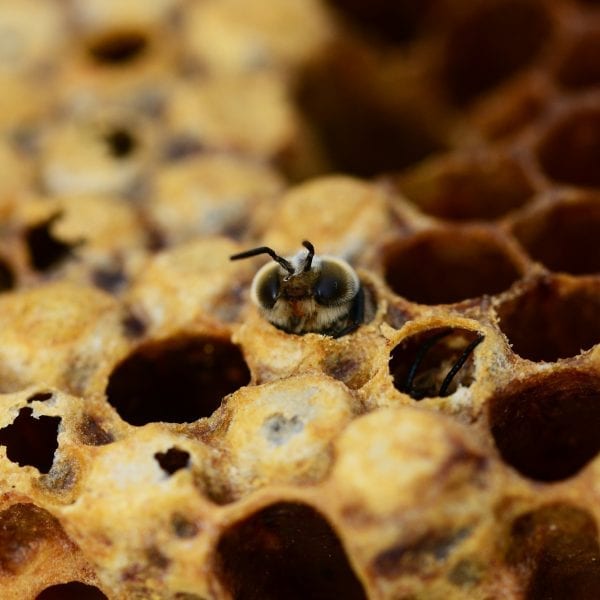 Foulbrood Is One of the Cause of Colony Collapse Disorder
As foulbrood rose as one of the underlying causes of global bee disappearance, the search for a solution began. The situation has been and remains bleak. The bacterium is gram-positive and as such, can form spores which survive for over 50 years. Foulbrood's spore form resists both freezing and extreme heat. Scientists have found it around the globe. Due to the destructive nature of this bacterium, once infected, burning the entire hive presents itself as the best first choice. A couple of antibiotic options exist, but resistance has been documented. Treatment of a colony is challenging and often starting from scratch can be best.
With an adversary like this, innovation and stretching the boundaries of possibility become necessary. The solution originated with a compound as fascinating as the vaccine. Vitellogenin refers to a variety of lipoglycoproteins essential during the early development stages within many species. For chickens and fish, vitellogenin act as a precursor for most proteins in the yolk. Being an ancient protein, this is used across many species, and humans have a related compound utilized within their own growth.
How the Honeybee Vaccine Works
In honey bees, vitellogenin resides within their head and abdomen, helping regulate both social interactions and their aging rate. Within queen bees, this protein also holds an ability of immune protection. If a queen bee eats foulbrood bacteria, the antigen is bound to vitellogenin. As the vitellogenin-antigen complex is passed onto her subsequent eggs, the new hatchlings recognize the foulbrood bacteria as a foreign invader faster and more efficiently. By exposing the queen to the foulbrood antigen, her progeny develops an effective immune response to the bacteria and thus have hope against one cause of Colony Collapse Disorder.
If you are an apiarist, listening to this podcast, the vaccine currently to be trademarked as PrimeBEE remains in development. An optimistic eta sits at four to five years from now. So, honeybees keep your tarsal claws crossed as we Homo sapiens are keeping our fingers crossed. You are part of the key to our long-term survival on this precious blue planet of ours.
References and Further Reading
Baeza, M. L., Conejero, L., Higaki, Y., Martín, E., Pérez, C., Infante, S., … Zubeldia, J. M. (2005). Anisakis simplex allergy: a murine model of anaphylaxis induced by parasitic proteins displays a mixed Th1/Th2 pattern. Clinical and experimental immunology, 142(3), 433–440. doi:10.1111/j.1365-2249.2005.02952.x
Baker, M. E. (1988). Is vitellogenin an ancestor of apolipoprotein B-100 of human low-density lipoprotein and human lipoprotein lipase? Biochemical Journal, 255(3), 1057-1060. doi:10.1042/bj2551057
BeeAware. (n.d.). American foulbrood. Retrieved May 4, 2019, from http://beeaware.org.au/archive-pest/american-foulbrood/#ad-image-0
Christen, V., Vogel, M. S., Hettich, T., & Fent, K. (2019). A Vitellogenin Antibody in Honey Bees ( Apis mellifera ): Characterization and Application as Potential Biomarker for Insecticide Exposure. Environmental Toxicology and Chemistry, 38(5), 1074-1083. doi:10.1002/etc.4383
Cooper P. J. (2009). Interactions between helminth parasites and allergy. Current opinion in allergy and clinical immunology, 9(1), 29–37. doi:10.1097/ACI.0b013e32831f44a6
Cooper, D., & Eleftherianos, I. (2017). Memory and Specificity in the Insect Immune System: Current Perspectives and Future Challenges. Frontiers in immunology, 8, 539. doi:10.3389/fimmu.2017.00539
Daley, J. (2018, December 10). Researchers Create First-Ever Honey Bee Vaccine. Retrieved May 4, 2019, from https://www.smithsonianmag.com/smart-news/researchers-create-first-honey-bee-vaccine-180970985/
Earth Day Network. (2018, June 04). Fact Sheet: Bees. Retrieved May 4, 2019, from https://www.earthday.org/2018/05/23/fact-sheet-bees/
Freitak, D. [Dalial]. (n.d.) Posts [LinkedIn page].  Retrieved May 4, 2019, from https://www.linkedin.com/in/dalial-freitak-b7871231/?originalSubdomain=at
Greenpeace. (2014). The Bees in Decline. Retrieved May 4, 2019, from http://sos-bees.org/
Harwood, G., Amdam, G., & Freitak, D. (2019). The role of Vitellogenin in the transfer of immune elicitors from gut to hypopharyngeal glands in honey bees (Apis mellifera). Journal of Insect Physiology, 112, 90-100. doi:10.1016/j.jinsphys.2018.12.006
Khezri, M., Moharrami, M., Modirrousta, H., Torkaman, M., Rokhzad, B., & Khanbabaie, H. (2018). Prevalence of American foulbrood in asymptomatic apiaries of Kurdistan, Iran. Veterinary World, 11(3), 281–285. doi:10.14202/vetworld.2018.281-285
Kingsley, S. (2018, December 14). Scientists create bee vaccine to fight off 'insect apocalypse.' Retrieved May 4, 2019, from https://phys.org/news/2018-12-scientists-bee-vaccine-insect-apocalypse.html
Milbrath, M. (2018). Diagnosing and Treating American Foulbrood in Honey Bee Colonies. Retrieved May 4, 2019, from https://pollinators.msu.edu/resources/beekeepers/diagnosing-and-treating-american-foulbrood-in-honey-bee-colonies/
Münch, D., Ihle, K. E., Salmela, H., & Amdam, G. V. (2015). Vitellogenin in the honey bee brain: Atypical localization of a reproductive protein that promotes longevity. Experimental Gerontology, 71, 103-108. doi:10.1016/j.exger.2015.08.001
Salmela, H. [Heli (Havukainen)]. (n.d.) Posts [LinkedIn page].  Retrieved May 4, 2019, from https://www.linkedin.com/in/heli-salmela-6b7573131/
Smithsonian Museum of Natural History. (2005, February 01). Two Vaccines. Retrieved May 4, 2019, from https://amhistory.si.edu/polio/virusvaccine/vacraces2.htm
Snyder, R. (2013, October 21). American Foulbrood (AFB). Retrieved May 4, 2019, from https://beeinformed.org/2013/10/21/american-foulbrood-afb/
[amazon_link asins='1118553985,1935660020,0199946647,130526892X,1607951789' template='ProductCarousel' store='vetzone-20' marketplace='US' link_id='aa3e86be-ce1c-11e7-ae16-0944a45c35a3']