Weaning will be upon us sooner than expected.  Are your calves ready?  Are they protected from blackleg?
All breeds of calves are susceptible to blackleg, not just black ones.  Beef cattle have a slightly higher risk, do to heavier muscling.  Clostridium chauvoei causes an emphysematous swelling in muscles, affecting cattle and sheep.  Also referred to as clostridial myositis, blackleg produces gas within the muscles, leading to crepitation when palpated.  This is quite memorable the first time you feel it.
C. chauvoei
C. chauvoei is an anaerobic, motile, Gram positive rod. As we learned in "I Just Don't Give a Gram", Clostridium spp produce endotoxins that cause clinical signs. Spores survive in the environment for years, much like anthrax.  Calves ingest spores, which pass through the GI tract and move into muscles and other tissues.  Infection through wounds have a shorter incubation time.  Any unvaccinated cattle are at risk, but calves from weaning through finishing are most commonly affected.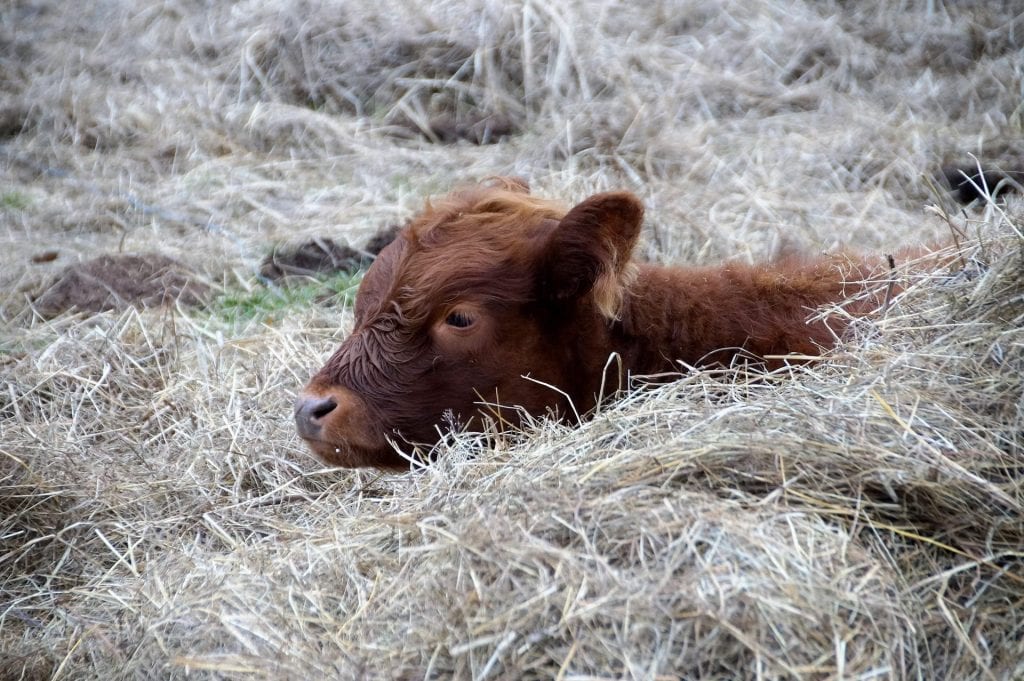 Clinical signs
Often, initial cases present as acute lameness with or without swelling noted.  Fever occurs early in the disease but subsides by the time clinical signs are noted.  Swelling and crepitation occur over the shoulder, chest, back, neck or hip.  These coincide with areas often traumatized by a trip through the chute.  Death occurs 12-48 hours after signs begin. Large numbers of calves can be found dead before a diagnosis can be reached. 
Large patches of gas and dark red to black tissue are noted at necropsy.  Lesions have been described as having a sweet or buttery odor.  Definitive diagnosis is made by isolating the bacteria from muscle.  Infections with C. septicum, C. novyi, C. sordellii, and C. perferingens resemble blackleg lesions.
Prevention
Vaccination easily achieves prevention of blackleg.  Calves are given two doses; the first at branding, and the second shortly before weaning.  Adult cattle living in high risk areas need annual boosters.  In outbreaks, susceptible cattle receive boosters, as well as prophylactic doses of penicillin.
Don't let an easily preventable disease rob your hard-earned profits.  Good husbandry, good nutrition, and a solid vaccination program return your investment many times over.