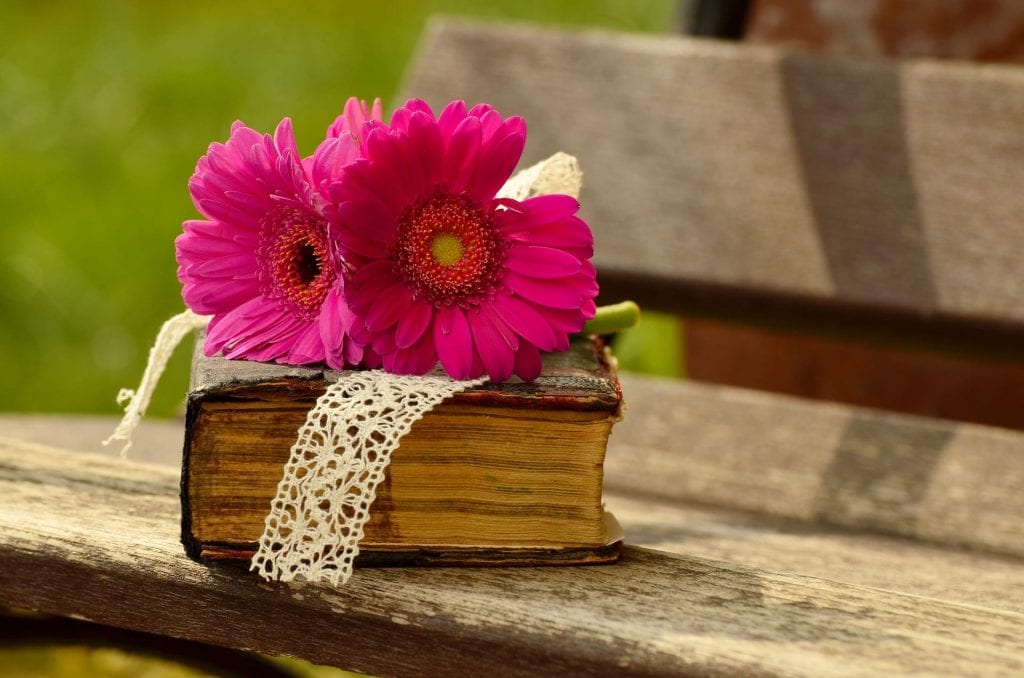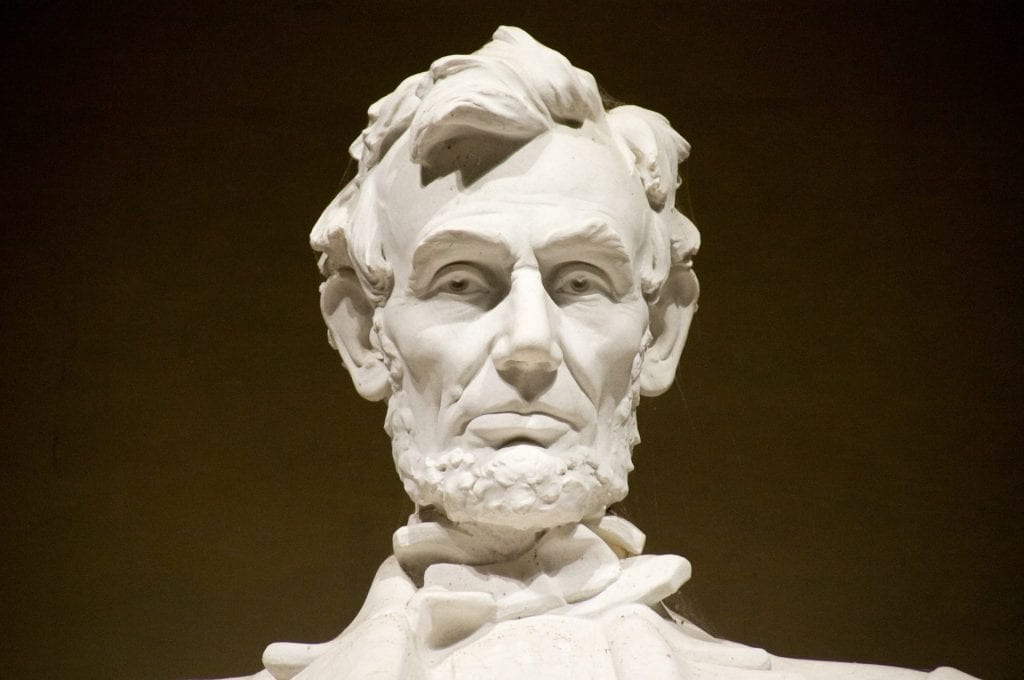 Goats are amazing - even Abraham Lincoln knew this!
We all love goats. How could you not? Even Abraham Lincoln had pet pair of goats named Nanny and Nanko who used to chew on the White House furniture. Goats are worthy not only of our love but of our admiration as well. Goats hold a number of superpowers, one of them being able to synthesize any amino acid they want. Not impressed?
Amino acids are the building blocks of protein. Protein makes up vital components in every cell in your body. Protein forms not only your muscles, but your hair, hormones, enzymes, nerve receptors, and more. Without protein, not only would you have wimpy biceps and be bald, but your brain would not even work.
Podcast: Free Audio File
If you prefer to listen to podcasts, feel free to play the audio version of this blog by clicking on the player above.
Podcast: Why Goats Always Carry the Kings-Hood and a Bible - The Goat Digestive System
Length: 7 min 29 seconds
Written and read by the author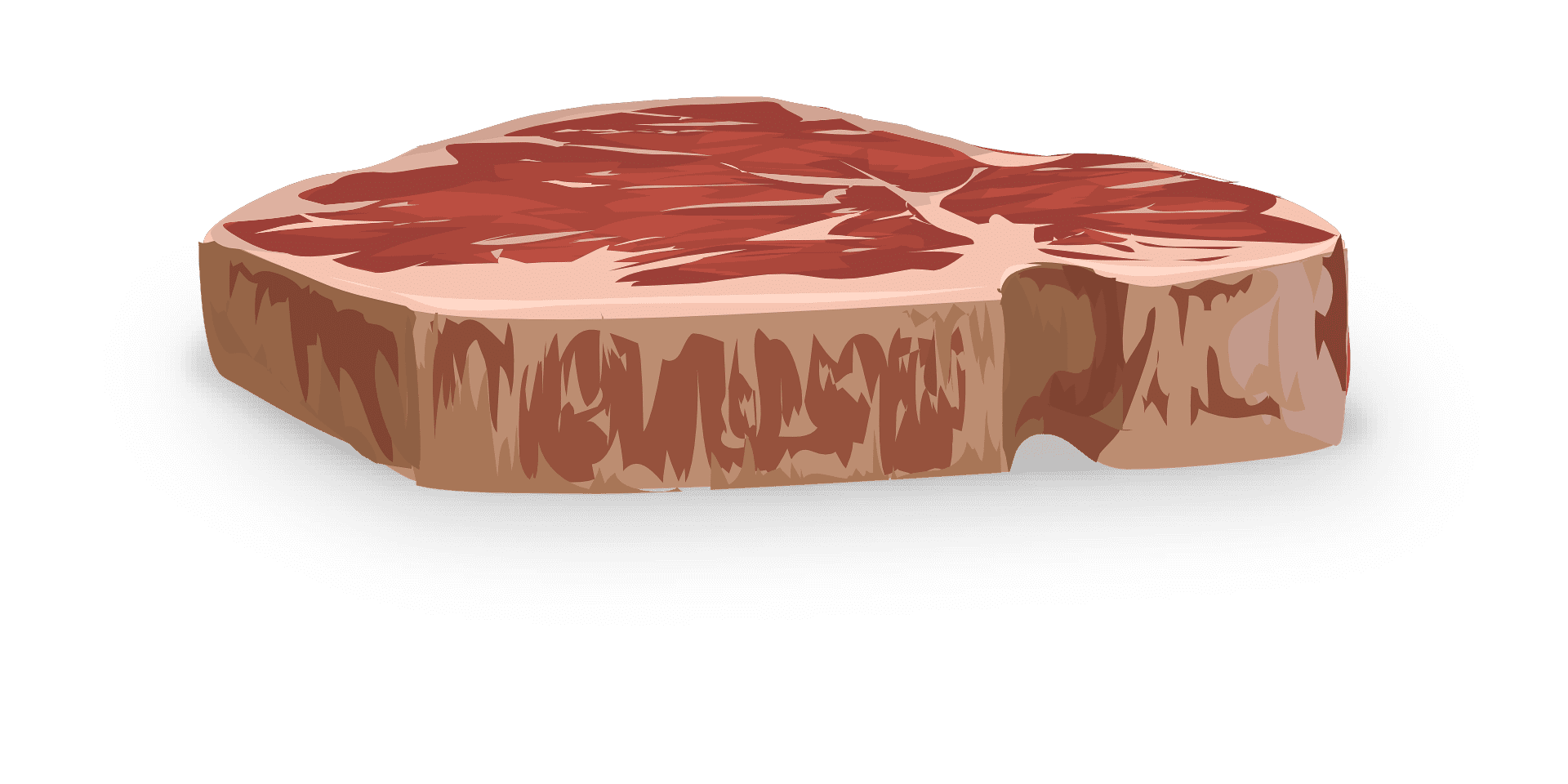 Life directly use 20 different amino acids
Our genes represent building plans or recipes for protein. The genes of multicellular life's directly use 20 different amino acids in these protein plans. However, our bodies cannot make all of these amino acids. Those that we cannot manufacture are called essential amino acids because we must include them in our diet. For humans, there are nine essential amino acids, dogs, 10, and cats, 11. For goats? Zero, zip. They make them all through the incredible power of their ruminant four-chambered stomach.
All ruminants, such as sheep, cattle, and giraffes have this ability, and it is nothing short of amazing. Let's review how this works as it gives us a key into what we need and don't need to feed goats to stay healthy.
Bacteria and ciliates call the rumen home
When a goat browses and eats leaves, the mostly unchewed plant material is swallowed and taken to the first and largest chamber known as the rumen. An antiquated term for this is "paunch," although, no matter how much of a paunch you have, you really never have any at all. The rumen functions as a large fermenter and while it doesn't make beer, it does do something almost as great.
A wide variety and vast number of bacteria and ciliates call the rumen home. Ciliates are single-celled organisms but differ from bacteria as they belong to the phylum of protozoans.  If you count the number of organisms in a single drop of rumen fluid, you will reach a number that is ten times larger than the entire human population of our planet. Two and a half tablespoons would provide enough bacteria and ciliate cells to roughly equal the number of cells in your whole body. All of them work inside the rumen to help the goat convert things like cellulose, the structural carbohydrate of plant cells, into usable sugars. The bacteria help transform, that is ferment, these sugars into necessary nutrients like acetic and butyric acid. The microorganisms also make amino acids from the inorganic nitrogen in plants. They even make Vitamin K and the different B-complex vitamins. Wow, now that is teamwork!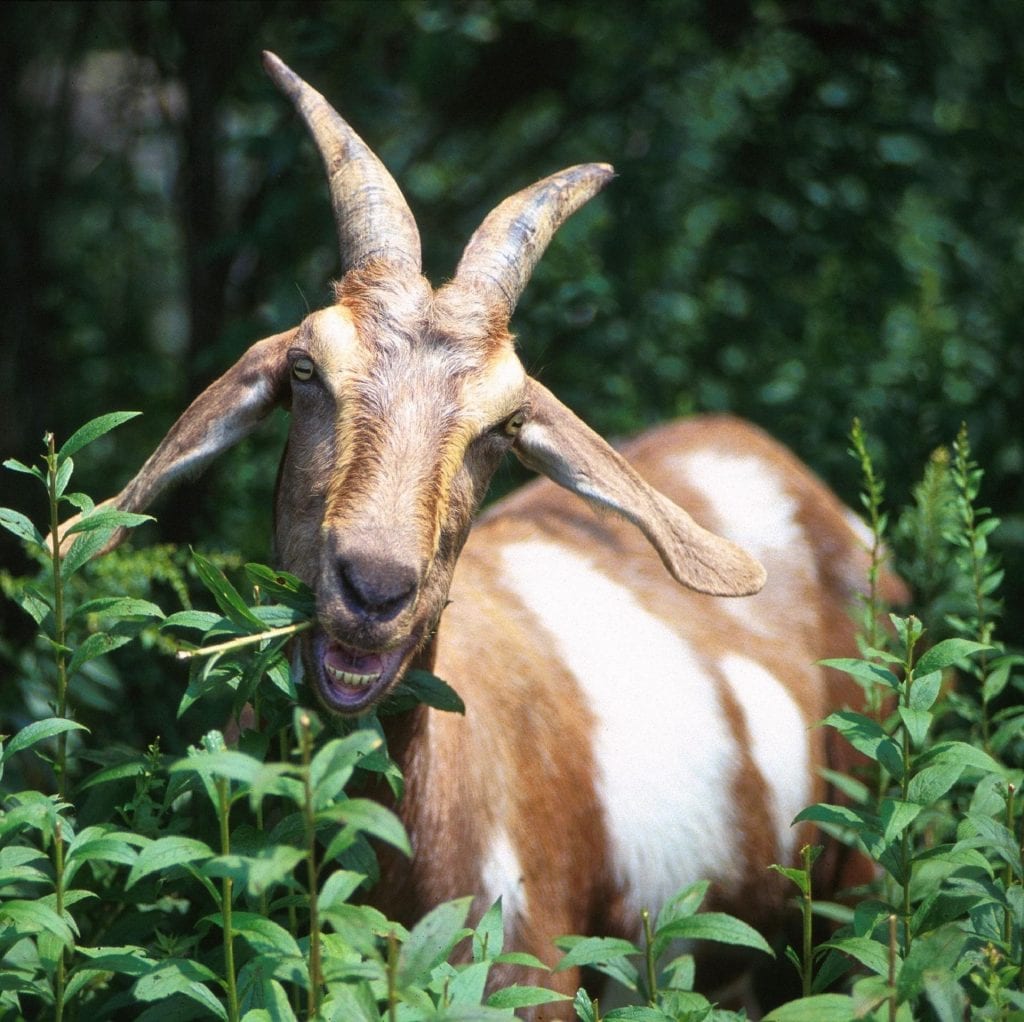 What the cud?
To facilitate this entire process, some mastication or chewing helps break down the plant material so that the microbes can better do their work. Ruminants bring balls of ingesta, called cud, back up from the rumen into their mouth where they slowly grind the plant material up. Then they swallow and bring up more cud for processing. By doing this, goats enhance digestion.
Cud chewing represents a smart survival tactic. Your mom tells you to slow down and chew your food. If you are a goat, your mom tells you the opposite, "Eat fast so we can get back to someplace safe where we can chew our cud in peace." Want some savory shrubbery leaves in lion territory, no problem, browse fast and then return to the safe cud-chewing territory.
The reticulum resembles a honeycomb
The fermented digesta then moves slowly into the second chamber of the stomach, the reticulum. We call it the reticulum or honeycomb chamber due to the appearance of its lining. If you have ever eaten tripe, you might have tasted reticulum. Don't you miss the medieval naming system? There the reticulum was called the kings-hood. The reticulum functions to prevent larger particles from progressing to the next chamber until they have been properly broken down.
From the reticulum, ingesta moves to the third chamber, the omasum. To increase the absorptive surface area, this chamber has a series of leaflets, resembling pages in a book. No wonder, they used to call this organ the "bible" or "book of Psalms." Along with the reticulum and rumen, the omasum may also be used as tripe. These leaflets absorb water, electrolytes, minerals, and volatile fatty acids. When kids, baby goats, nurse, the milk moves directly (via the ruminoreticulo groove) to the omasum to begin absorption. A goat's rumen doesn't function until six to eight weeks of age.
The 4th Chamber
Finally, the ingesta then transfers into the abomasum which we call the "true stomach." We name it this because, like our stomachs, glands there secrete hydrochloric acid and digestive enzymes. Unlike our stomachs, they make some complex enzymes called rennet which we use in the production of most cheeses. Due to the level of acid, this section represents a hard stop for most microorganisms. Like us, until food then reaches the colon the long path through the small intestines remains low in bacteria. Having gone to such lengths in making nutrients available from plant fibers that the rest of us cannot, goats go to great lengths to absorb these nutrients, literally. The length of a goat's small intestine is roughly 25 times the length of their own body. By contrast, our small intestines only exceed our body length by about 4 times.
Goat pellet represents an evolutionary wonder
The ingesta then progresses into the large intestine where more bacteria work to convert nutrients and provide additional vitamins. The large intestine removes extra water. From here, the goat has extracted everything it can and forms the leftovers into little pellets of feces.
The journey from shrub leaf to goat pellet represents an evolutionary wonder. Ruminants can utilize vegetation that no one else can. If we tried to eat their food, we would quickly die from malnourishment. By knowing how goats process food, we better understand what goats need and don't need and what we should and should not feed them. So, thank ruminants in bridging this critical link in the circle of life. And of course, thank them for cheese!
Terms:
Abomasum – (n.) fourth chamber of the ruminant stomach. It is also called the "true stomach" because it has glands which secrete hydrochloric acid and digestive enzymes.
Bible – (n.) antiquated name for omasum.
Ciliate – (n.) single-celled protozoal organism
Cud – (n.) the partially digested ingesta that is moved from the reticulorumen to the mouth for additional chewing. It is then swallowed again.
Honeycomb – (n.) alternative name for reticulum.
Kings-hood – (n.) antiquated name for reticulum.
Masticate – (v.) to chew.
Omasum – (n.) third chamber of the ruminant stomach. The lining resemble pages in a book and is responsible for the absorption of water, minerals, electrolytes, volatile fatty acids, and vitamins.
Paunch – (n.) antiquated name for rumen.
Protozoa – (n.) a phylum designated to single-celled organism that differs from bacteria in that they have a nucleus. This places them in the same Domain of Life known as Eukaryota just like goats and people.
Psalterium – (n.) "Book of Psalms," an antiquated name for omasum.
Reticulum – (n.) second chamber of the ruminant stomach. The surface has a honeycomb appearance and helps compress the ingesta into cud which can be brought back to the mouth for chewing.
Ruminant – (n.) a group of mammals that have a four-chambered stomach equipped to ferment plant material for digestion. This group includes cows, sheep, goats, deer, bison, giraffes, etc.
Rumen – (n.) first and largest chamber of the ruminant stomach. Large numbers of bacteria and ciliates present here are responsible for the fermentation process.
Tripe – (n.) the edible lining of the ruminant stomach. Tripe is usually made from cows and sheep. Goat tripe is less common.
References and Additional Reading
CHAMBERS, C. (2016). CHAMBERS CROSSWORD DICTIONARY. S.l.: CHAMBERS.
Colorado State University. (n.d.). Rumen Physiology and Rumination. Retrieved September 22, 2018, from http://www.vivo.colostate.edu/hbooks/pathphys/digestion/herbivores/rumination.html
Compound Chem. (2016, May 28). A Brief Guide to the Twenty Common Amino Acids. Retrieved September 22, 2018, from https://www.compoundchem.com/2014/09/16/aminoacids/
Haenlein, G. F., & Ace, D. L. (1984). Extension goat handbook. Washington: Extension Service, U.S. Department of Agriculture.
MOCA Authors. (n.d.). Small/Large Intestine Length Ratio. Retrieved September 22, 2018, from https://carta.anthropogeny.org/moca/topics/smalllarge-intestine-length-ratio
Newbold, C. J., de la Fuente, G., Belanche, A., Ramos-Morales, E., & McEwan, N. R. (2015). The Role of Ciliate Protozoa in the Rumen. Frontiers in Microbiology, 6, 1313. http://doi.org/10.3389/fmicb.2015.01313
Presidential Pet Museum, & About Presidential Pet MuseumThe Presidential Pet Museum was founded in 1999 to preserve information. (2016, January 17). Abraham Lincoln's Goats, Nanny, and Nanko. Retrieved September 22, 2018, from http://www.presidentialpetmuseum.com/pets/abraham-lincoln-goats/
Stevens, C. E., & Hume, I. D. (2004). Comparative physiology of the vertebrate digestive system. Cambridge: Cambridge University Press.
University of Waikato. (n.d.). Adaptations to high fibre diets. Retrieved September 22, 2018, from https://sci.waikato.ac.nz/farm/content/animalstructure.html
University of Waikato. (n.d.). Microbiology. Retrieved September 22, 2018, from https://sci.waikato.ac.nz/farm/content/microbiology.html
Wonderopolis. (2018). How Many Cells Are in the Human Body? Retrieved September 22, 2018, from https://wonderopolis.org/wonder/how-many-cells-are-in-the-human-body
[amazon_link asins='1118553985,1935660020,0199946647,130526892X,1607951789' template='ProductCarousel' store='vetzone-20' marketplace='US' link_id='aa3e86be-ce1c-11e7-ae16-0944a45c35a3']